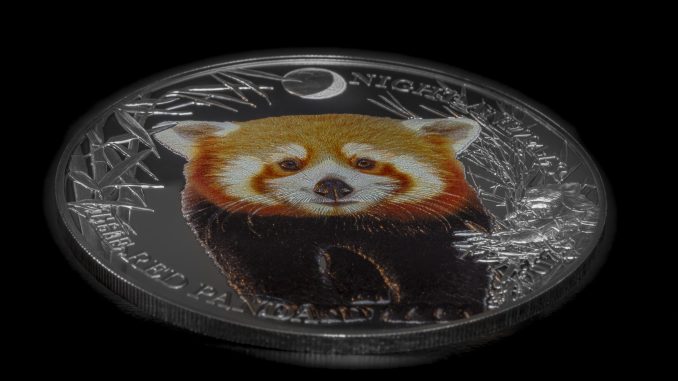 Beautifull night animals, starting with the endangered Red Panda are now issued on a pure silver 1oz coin with a large 55mm. Smartminting makes this possible and the relief is stunning! Black PROOF simulates the night and the night stars between the coat of arms give it a great touch. Just 499 pieces will be released.
The red panda (Ailurus fulgens), also called the lesser panda, the red bear-cat, and the red cat-bear, is a mammal native to the eastern Himalayas and southwestern China. It has reddish-brown fur, a long, shaggy tail, and a waddling gait due to its shorter front legs; it is slightly larger than a domestic cat. It is arboreal, feeds mainly on bamboo, but also eats eggs, birds, and insects. It is a solitary animal, mainly active from dusk to dawn, and is largely sedentary during the day.
Key selling points
Large 50mm diameter for 1oz coin
High relief due to Smartminting technology
Black proof to simulate the night
Low mintage just 499 pcs
New unique coloring technique
Image gallery
Find below a gallery of all images & video available for this product. Please contact us if you require more material as we might have more available for marketing purposes.
Download image library
.
Specifications
Article ID
CK1708
Country
Cook Islands
Year
2017
Face Value
5 Dollars
Metal
Silver
Weight
1 oz (31.1 g)
Fineness
.999
Diameter
50 mm
Quality
Black Proof
Mintage
499 pcs.
Scope of Delivery
Capsule, Box / Case, Certificate of Authenticity
Special Features
Smartminting©, Black Proof, Coloured
Availability
Issued
Sold out at NumisCollect
All coins in the Night Animals series
Find here a list of coins issued in the same series.