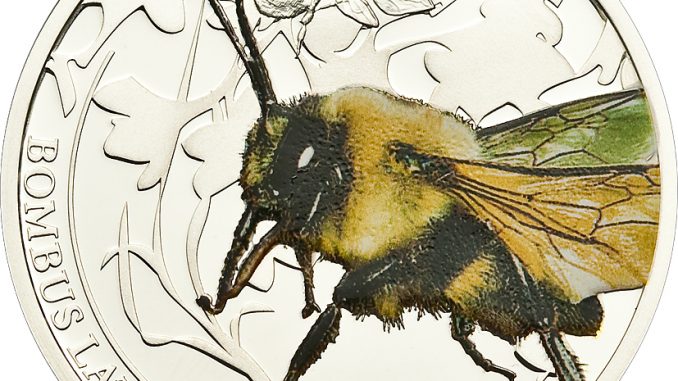 A bumble bee (also spelled as bumblebee) is any member of the bee genus Bombus, in the family Apidae. There are over 250 known species, existing primarily in the Northern Hemisphere although they are common in New Zealand and Tasmania. The Phasmatodea (sometimes called Phasmida) are an order of insects, whose members are variously known as stick insects (in Europe and Australasia), walking sticks or stick-bugs (in the United States and Canada), phasmids, ghost insects and leaf insects (generally the family Phylliidae). The ordinal name is derived from the Ancient Greek phasma, meaning an apparition or phantom, and refers to the resemblance of many species to sticks or leaves. Their natural camouflage can make them extremely difficult to spot. Phasmatodea can be found all over the world in warmer zones, especially the tropics and subtropics.
Key selling points
First two issues complete sold out
Low mintage
Interesting designs
Image gallery
Find below a gallery of all images & video available for this product. Please contact us if you require more material as we might have more available for marketing purposes.
Download image library
.
Specifications
Article ID
PW1107
Country
Palau
Year
2011
Face Value
2 Dollars
Metal
Silver
Weight
1/2 oz (15.5 g)
Fineness
.925
Diameter
35 mm
Quality
Proof
Mintage
1000 pcs.
Scope of Delivery
Capsule, Box / Case, Certificate of Authenticity
Special Features
Coloured
Availability
Issued
Available
All coins in the Insects of the World series
Find here a list of coins issued in the same series.