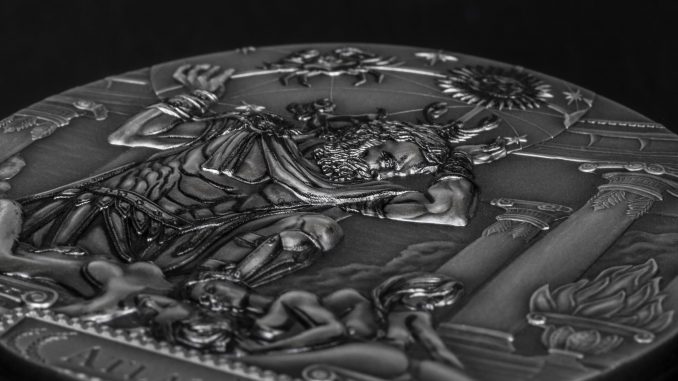 The 'Atlas' coin is part of the 'Titan' series. The impossible has been made possible using the enhanced Smartminting©️ technology and brings Titan Atlas & the Hesperides to life. The coin has a unique antique finish with dark highlights, struck on a 3 oz pure .999 silver 50mm blank in the highest quality. It has a limited mintage of only 333 pcs worldwide and comes in a beautiful box with a Certificate of Authenticity. Get this edition now to expand your collection.
Coin description
The reverse of the coin depicts Titan Atlas and the vault of heaven he had to carry on his shoulders. The Hesperides in front of him are his daughters, together with the inscription: "ATLAS" (the name of the coin).
The obverse side of the coin depicts the standard Coat of Arms with Queen Elizabeth II and the inscriptions: "20 DOLLARS" (the face value), "ELIZABETH II" (the name of the Queen), "COOK ISLANDS" (the issuing country) and "2019" (the year of issue).
Background information
In Greek mythology, Atlas is best known as the Titan, who, according to legend, had to carry the celestial vault on his shoulders. Atlas was the son of the Titan Iapetus. In the great battle of the gods for supremacy between Cronus and Zeus, Atlas fought alongside the Titans against Zeus and the Cyclopes. Because of his father's advanced age, Atlas was even appointed Commander-in-Chief of the Titans. The unfortunate Titan Son also appears in the legend of Hercules, who had to perform twelve works to regain his freedom. One day the hero was ordered to retrieve the golden apples from the Hesperides. These apples were guarded by four maidens, the Hesperides, and the hundred-headed dragon Ladon. Since Atlas was the father of the Hesperides, Heracles asked him to persuade the ladies to part with the fruits, and he offered to take over the weight of heaven from him in the meantime. Atlas accepted the offer, but once he delivered the apples to Heracles, he tricked him. Heracles kindly asked the Titan if he could rest for a while and hand the weight over to Atlas. Atlas was foolish enough to fall for it, and Heracles immediately fled.
Key selling points
50mm diameter for 3oz coin
Ultra high relief due to Smartminting©️ technology
Special new antique finish with dark highlights
Low mintage just 333 pcs
Topselling motive
Image gallery
Find below a gallery of all images & video available for this product. Please contact us if you require more material as we might have more available for marketing purposes.
Download image library
.
Specifications
Article ID
CK1905
Country
Cook Islands
Year
2019
Face Value
20 Dollars
Metal
Silver
Weight
3 oz (93.3 g)
Fineness
.999
Diameter
50 mm
Quality
Antique Finish
Mintage
333 pcs.
Scope of Delivery
Capsule, Box / Case, Certificate of Authenticity
Special Features
Smartminting©, Antique Finish
Availability
Issued
Sold out at NumisCollect
All coins in the Titans series
Find here a list of coins issued in the same series.