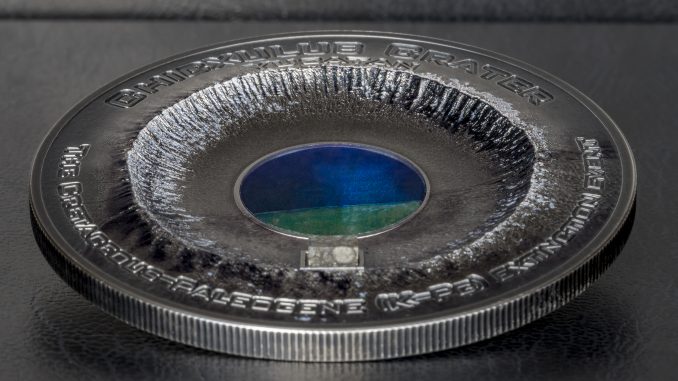 The 'Yucatan Crater' coin is the 5th issue in the 'Meteorites' series. The impossible has been made possible using the enhanced Smartminting©️ technology and brings the Yucatan Crater and extinct dinosaurs to life. The coin has an antique finish with a unique glass inlay and is struck on a 3 oz .999 Silver 65mm blank in the highest quality. It has a limited mintage of only 333 pcs worldwide and comes in a beautiful box with a Certificate of Authenticity. Get this award winning 5th edition now to grow your collection.
This coin has won the COTY award in the category 'best technological coin of 2019'.
Coin description
The reverse of the coin depicts the ultra-deep Yucatan Crater on the coast of Mexico together with the inscription: "CHICXULUB CRATER YUCATAN" (the name of the coin and "CRETACEOUS-PALEOGENE (K-PG) EXTINCTION EVENT".
The obverse side of the coin depicts the Coat of Arms of the Cook Island in a special appearance with the meteorite in the sky, a dinosaur, and the inscriptions: "ELIZABETH II" (the name of the Queen), "20 DOLLARS" (the face value), "COOK ISLANDS" (the issuing country) and "2019" (the year of issue).
Background information
Chicxulub Crater is the 180-kilometer-wide remnant of an asteroid impact about 65 million years ago in Yucatan, Mexico. The crater was discovered in 1991. Its impact probably (partly) led to the end of the age of the dinosaurs.
The crater had gone unnoticed for decades because 1000 meters younger rocks hid it. There is not much to see on the surface today, except for the ring of underground pools (cenotes) that line the old crater rim. The crater was eventually found because geological research revealed anomalies in the gravitational field, among other things.
Key selling points
Heavy 3oz silver coin
Interesting special features
Most awesome meteorite coin ever
Low mintage
New unique coloring technique
Ultra deep Smartminting©️
Image gallery
Find below a gallery of all images & video available for this product. Please contact us if you require more material as we might have more available for marketing purposes.
Download image library
.
Specifications
Article ID
CK1906
Country
Cook Islands
Year
2019
Face Value
20 Dollars
Metal
Silver
Weight
3 oz (93.3 g)
Fineness
.999
Diameter
65 mm
Quality
Antique Finish
Mintage
333 pcs.
Scope of Delivery
Capsule, Box / Case, Certificate of Authenticity
Special Features
Smartminting©, Antique Finish, Coloured, Glass window insert, Meteor insert
Availability
Issued
Sold out at NumisCollect
All coins in the Meteorites series
Find here a list of coins issued in the same series.