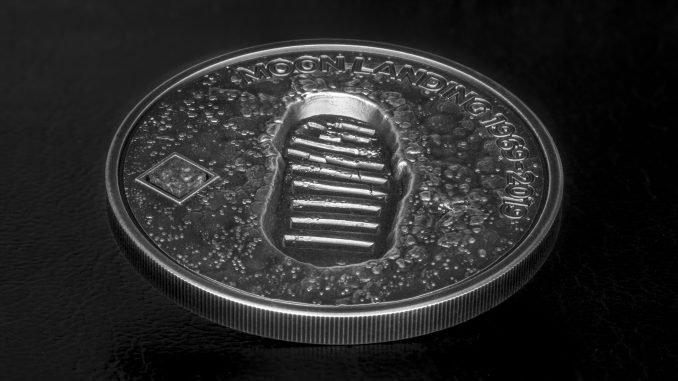 The 'Moon Landing 1969' coin is dedicated to the 50th Anniversary of the Apollo 11 Lunar Mission on July 20, 1969. The impossible has been made possible using the enhanced Smartminting©️ technology and brings the footprint on the moon to life. The coin has a unique antique finish and is struck on a 1 oz pure .999 silver 38.61mm blank in the highest quality. It has a limited mintage of only 499 pcs worldwide (note: there are 400 coins with NWA11421 meteorite inserted and 99 pieces with DHOFAR1766 inserted) and comes in a beautiful box with a Certificate of Authenticity. Get this edition now to complete your space coin collection.
Coin description
The reverse of the coin depicts Neil Armstrong's first footprint on the moon together with the instruction: "MOON LANDING 1969-2019" (the name of the coin).
The obverse side of the coin depicts the Coat of Arms of the Cook Island in a special appearance with the lunar surface, the Eagle, the earth, and the inscriptions: "ELIZABETH II" (the name of the Queen), "COOK ISLANDS" (the issuing country) and "5 DOLLARS" (the face value).
Background information
On July 20, 1969, the American astronaut Neil Armstrong was the first human to set foot on the moon. The journey of Apollo 11, the landing, and the first steps on the moon are world news. Four days earlier, the astronauts on the Apollo 11 mission had left earth to do something no human had ever done before: walk on the moon. After four days, the lunar lander, called the Eagle, reached the lunar surface (The Eagle has landed). Hours later, on July 21, Neil Armstrong was the first human ever to set foot on the moon. He then famously said, "That's one small step for a man, one giant leap for mankind."
Key selling points
Highly detailed coin
Ultra high relief – Smartminting©️
Moon meteorite insert
Low mintage
Iconic famous motive
Image gallery
Find below a gallery of all images & video available for this product. Please contact us if you require more material as we might have more available for marketing purposes.
Download image library
.
Specifications
Article ID
CK1907
Country
Cook Islands
Year
2019
Face Value
5 Dollars
Metal
Silver
Weight
1 oz (31.1 g)
Fineness
.999
Diameter
38.61 mm
Quality
Antique Finish
Mintage
499 pcs.
Scope of Delivery
Capsule, Box / Case, Certificate of Authenticity
Special Features
Smartminting©, Antique Finish, Meteor insert
Availability
Issued
Sold out at NumisCollect
All coins in the Space age series
Find here a list of coins issued in the same series.