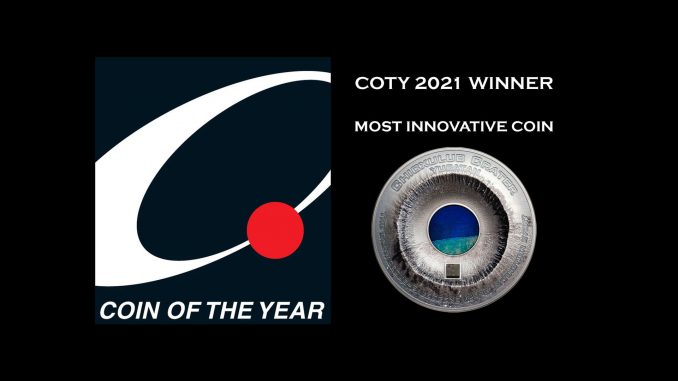 NumisCollect is thrilled to announce that our coin issue 'Yucatan Meteorite Crater – Dinosaur Extinction' has won the first price in the 'Most Innovative Coin' category of the COTY awards 2021. The COTY awards are the most prestigious awards in the coin industry and it is a great honour to receive this award.
2021 is the 38th annual awards program this time honouring 2019 issued coins. Normally the ceremony is held at the World Money Fair but due to worldwide challenges this year it is digital. Several hundreds coins of thousands issued yearly from over 45 countries were submitted for the Coin of the Year 2021 awards. NumisCollect received 3 nominations in three categories and now won in the most innovative category. View the full story and see all winners of the COTY 2021 awards at the World Coin News website.
Winning such a price challenges us to get even better and make even more apricated coins in the future! We thank everyone who has voted for this coin and of course all the people who have added this coin to their collection.
Stay tuned for great coins to come!
Cook Islands Yucatan Crater – Winner most innovative coin
The 2019 Cook Islands Yucatan Crater – Dinosaur Extinction: Winner in the most innovative coin category of the most prestigious COTY awards. It is dedicated to the extinction event of the dinosaurs. Its believed the impact crater is at todays Yucatan, Mexico which crater is on the coin. A glass inlay at the bottom of the crater, with the blue water and green land. An actual meteorite (Allende meteorite) from the same area is inserted. The special coat of arms has a meteorite falling and a huge T-Rex as well. It is a 3oz pure silver coin, 20 Dollars, 65mm and a limited edition of just 333 pcs. Click here for the full description.
All coins in the NumisCollect Coin News series
Find here a list of coins issued in the same series.