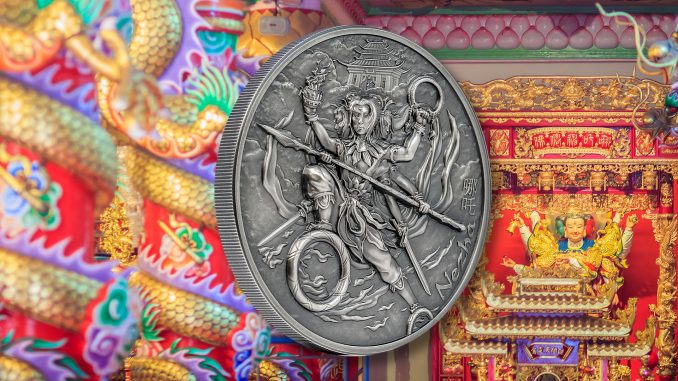 The 'Nezha (哪吒)' coin is the 5th and final issue in the 'Mythological Weapons' series. The impossible has been made possible using the enhanced Smartminting©️ technology and brings Nezha (哪吒) to life. The coin has an antique finish and is struck on a piedfort 2 oz pure silver 38.61mm blank in the highest quality. A limited mintage of only 999 pcs worldwide and comes in a beautiful box with Certificate of Authenticity. Get this 5th and final edition now to complete your collection and stay tuned for something new coming later in 2021.
Coin description
The coin's reverse depicts the deity Nezha as he is often depicted: As a youth with 3 heads and six arms holding his fire tipped spear, red armillary sash, swords while riding the wind fire wheels. In the background, you see a Nezha temple with clouds and inscriptions: "Nezha (哪吒)" (the name of the coin).
The obverse side of the coin depicts the standard Coat of Arms with Queen Elizabeth II and the inscriptions: "10 DOLLARS" (the face value), "ELIZABETH II" (the name of the Queen), "COOK ISLANDS" (the issuing country) and "2021" (the year of issue).
Background information
Nezha (哪吒) was born in the Shang Dynasty (1600-1046 BC) as an infant after a 3.5 year pregnancy of his mother. He could speak and walk immediately. Several years later the people from his town asked the Dragon King for rain but the king refused the food and demanded girls and boys to eat. One of Nezha's friends was capture but Nezha fought back and won. The Dragon King threatened to flood their town and reported Nezha to the Jade Emperor. To safe his family Nezha killed himself. He appeared in his mother's dream telling her to build a temple which she did. When his father found out he burned the temple, but this could not stop Nezha. His teacher constructed a new body from lotus flowers for his soul. After Nezha's reincarnation he fought many battles.
Today Nezha (哪吒) is a protection deity in Chinese Taoist religion.
Nezha is often depicted as a youth, instead of an adult. He is often shown flying in the sky riding on the Wind Fire Wheels (風火輪), has the Universe Ring (乾坤圈) around his body (sometimes in his left hand), the Red Armillary Sash (浑天绫) around his shoulders and a Fire-tipped Spear (火尖槍) in his right hand. Sometimes, he is shown in his "three heads and six arms" form (三頭六臂). He has the ability to spit rainbows in some legends.
Key selling points
Highly detailed coin
Ultra high relief Smartminting©️
Piedfort 2oz blank
Low mintage
Iconic famous motive
Image gallery
Find below a gallery of all images & video available for this product. Please contact us if you require more material as we might have more available for marketing purposes.
Download image library
.
Specifications
Article ID
CK2110
Country
Cook Islands
Year
2021
Face Value
10 Dollars
Metal
Silver
Weight
2 oz (62.2 g)
Fineness
.999
Diameter
38.61 mm
Quality
Antique Finish
Mintage
999 pcs.
Scope of Delivery
Capsule, Box / Case, Certificate of Authenticity
Special Features
Smartminting©, Antique Finish
Availability
Issued
Available
All coins in the Mythological Weapons series
Find here a list of coins issued in the same series.