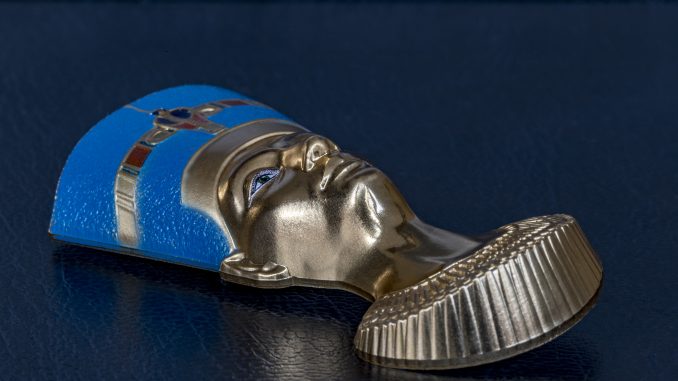 One of the highlights of the World Money Fair 2019 in Berlin: 3D Shaped Nefertiti Bust. Ultra high relief using Smartminting technology. Just 333 pieces will be released in pure 3oz silver. A coin as unique as the real bust of Nefertiti dated hundreds of years ago.
Neferneferuaten Nefertiti (c. 1370 – c. 1330 BC) was an Egyptian queen and the Great Royal Wife (chief consort) of Akhenaten, an Egyptian Pharaoh. Nefertiti and her husband were known for a religious revolution, in which they worshiped one god only, Aten, or the sun disc. With her husband, she reigned at what was arguably the wealthiest period of Ancient Egyptian history. Some scholars believe that Nefertiti ruled briefly as Neferneferuaten after her husband's death and before the accession of Tutankhamun, although this identification is a matter of ongoing debate. If Nefertiti did rule as Pharaoh, her reign was marked by the fall of Amarna and relocation of the capital back to the traditional city of Thebes.
Key selling points
Best known Egypt piece of art
3D Shaped coin – smart minting
Ultra high relief
Special box included
Low mintage
Image gallery
Find below a gallery of all images & video available for this product. Please contact us if you require more material as we might have more available for marketing purposes.
Download image library
.
Specifications
Article ID
PW1902
Country
Palau
Year
2019
Face Value
20 Dollars
Metal
Silver gilded
Weight
3 oz (93.3 g)
Fineness
.999
Diameter
65 mm
Quality
BU
Mintage
333 pcs.
Scope of Delivery
Capsule, Box / Case, Certificate of Authenticity
Special Features
Smartminting©, Gold-plated, Special Shape, 3D Technology
Availability
Issued
Few left at NumisCollect
All coins in the Egyptian Art 3D series
Find here a list of coins issued in the same series.