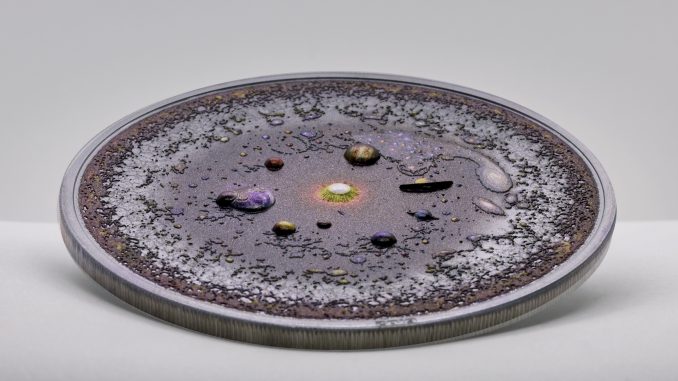 The 'Universe' coin is the first issue in the 'Space; the final frontier' series. The impossible has been made possible using the enhanced Smartminting©️ technology and brings our Universe to life. The coin has a black proof quality and is partly made in color, struck on a 3 oz pure .999 silver 65mm blank in the highest quality. It has a limited mintage of only 333 pcs worldwide and comes in a beautiful box with a Certificate of Authenticity. Get this first edition now to not miss this series.
Coin description
The reverse of the coin depicts our Universe with the sun in the center, the earth and the planets Mercury, Venus, Mars, Jupiter, Saturn, Uranus, and Neptune, with the inscription "2019" (the year of issue).
The obverse side of the coin depicts the standard Coat of Arms of the Republic of Palau in a unique space-themed appearance, with the inscriptions: "SPACE THE FINAL FRONTIER" (the name of the series), "REPUBLIC OF PALAU" (the issuing country) and "TWENTY DOLLARS" (the face value).
Background information
The Universe in astronomy, or the cosmos in cosmology, are synonyms for all matter and energy within the entire spacetime continuum in which man evolves. Current science assumes that the Universe was formed as described in the Big Bang Theory, which states that the Universe originated approximately 13.75 billion years ago. Belgian astronomer Georges Lemaître introduced the Universe theory in 1927, which said that distant galaxies are redshifted. Two years later, the American astronomer Edwin Hubble found experimental evidence for Lemaître's theory. Hubble proved that all galaxies are moving away from earth at speed proportional to their distance from earth, a physical law now called Hubble-Lemaître's Law. This fact implies a primordial beginning from a certain point, and in 1931 Lemaître hypothesized that the Universe must have arisen from the explosion of a "primordial atom".
Key selling points
Minted with Smartmintin©️g technology
Black proof with color
Unique subject; and the full universe on a coin
Unique Palau coat of arms
Very limited mintage just 333 pcs
Image gallery
Find below a gallery of all images & video available for this product. Please contact us if you require more material as we might have more available for marketing purposes.
Download image library
.
Specifications
Article ID
PW1903
Country
Palau
Year
2019
Face Value
20 Dollars
Metal
Silver
Weight
3 oz (93.3 g)
Fineness
.999
Diameter
65 mm
Quality
Black Proof
Mintage
333 pcs.
Scope of Delivery
Capsule, Box / Case, Certificate of Authenticity
Special Features
Smartminting©, Black Proof, Coloured
Availability
Issued
Sold out at NumisCollect
All coins in the Space; the final frontier series
Find here a list of coins issued in the same series.