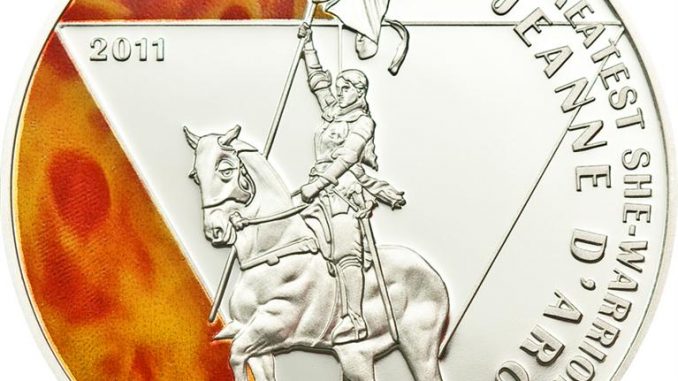 This coin series is dedicated to the greatest female warriors in history. Each coin depicts the warrior and at the background a colourful image related to her. The upside down triangle representing the female gender. Saint Joan of Arc or The Maid of Orléans (ca. 1412[2] – 30 May 1431) is considered a national heroine of France and a Catholic saint. A peasant girl born in eastern France who claimed Divine guidance, she led the French army to several important victories during the Hundred Years' War which paved the way for the coronation of Charles VII. She was captured by the Burgundians, sold to the English, tried by an ecclesiastical court, and burned at the stake when she was nineteen years old. Twenty-five years after the execution, Pope Callixtus III examined the trial, pronounced her innocent and declared her a martyr. She was beatified in 1909 and canonized in 1920. Zenobia (240 after 274) was a 3rd century Syrian queen of the Palmyrene Empire, who led a famous revolt against the Roman Empire.The second wife of King Septimius Odaenathus, Zenobia became queen of the Palmyrene empire following Odaenathus' death in 267. By 269, Zenobia had expanded the empire, conquering Egypt and expelling the Roman prefect, Tenagino Probus, who was beheaded after he led an attempt to recapture the territory. She ruled over Egypt until 274, when she was defeated and taken as a hostage to Rome by Emperor Aurelian.
Key selling points
First two series of coins dedicated to the greatest female warriors in history
Interesting design with triangle representing the female gender.
Colorful box included
Rare low mintage, expected sell will occur very fast
Image gallery
Find below a gallery of all images & video available for this product. Please contact us if you require more material as we might have more available for marketing purposes.
Download image library
.
Specifications
Article ID
TG1101
Country
Togo
Year
2011
Face Value
500 Francs
Metal
Silver
Weight
1/2 oz (15.5 g)
Fineness
.925
Diameter
35 mm
Quality
Proof
Mintage
1000 pcs.
Scope of Delivery
Capsule, Box / Case, Certificate of Authenticity
Special Features
Coloured
Availability
Issued
Sold out at NumisCollect
All coins in the Greatest She Warriors series
Find here a list of coins issued in the same series.