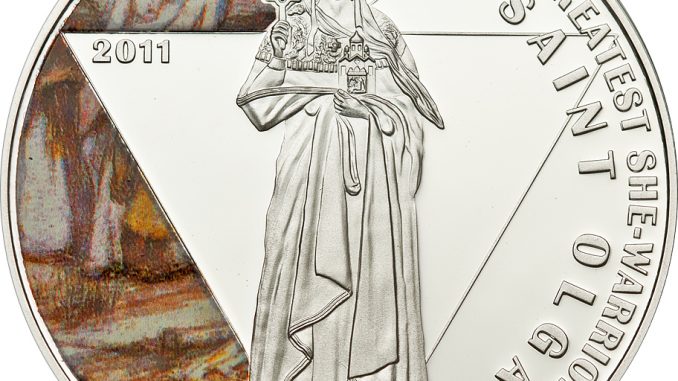 Olga was a Pskov woman of Varangian extraction who married the future Igor of Kiev, arguably in 903. The Primary Chronicle gives 879 as her date of birth, which is rather unlikely, given the fact that her only son was probably born some 65 years after that date. After Igor's death, she ruled Kievan Rus as regent (945-c. 963) for their son, Svyatoslav. t the start of her son's reign, Olga spent great effort to avenge her husband's death at the hands of the Drevlians, and succeeded in slaughtering many of them and interring some in a ship burial, while still alive. She is reputed to have scalded captives to death and another, probably apocryphal, story tells of how she destroyed a town hostile to her. She asked that each household present her with a dove as a gift, then tied burning papers to the legs of each dove which she then released to fly back to their homes. Each avian incendiary set fire to the thatched roof of their respective home and the town was destroyed. More importantly in the long term, Olga changed the system of tribute gathering (poliudie) in what may be regarded as the first legal reform recorded in Eastern Europe.
Key selling points
Interesting design with triangle representing the female gender.
Colorful box included
Rare low mintage, expected sell will occur very fast
Image gallery
Find below a gallery of all images & video available for this product. Please contact us if you require more material as we might have more available for marketing purposes.
Download image library
.
Specifications
Article ID
TG1103
Country
Togo
Year
2011
Face Value
500 Francs
Metal
Silver
Weight
1/2 oz (15.5 g)
Fineness
.925
Diameter
35 mm
Quality
Proof
Mintage
1000 pcs.
Scope of Delivery
Capsule, Box / Case, Certificate of Authenticity
Special Features
Coloured
Availability
Issued
Available
All coins in the Greatest She Warriors series
Find here a list of coins issued in the same series.