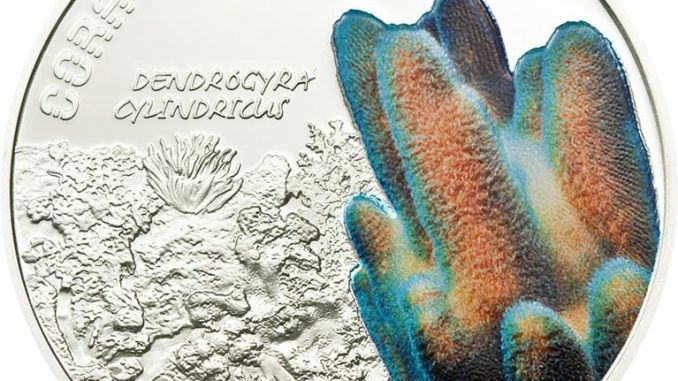 Corals are marine organisms in class Anthozoa of phylum Cnidaria typically living in compact colonies of many identical individual "polyps". The group includes the important reef builders that inhabit tropical oceans, which secrete calcium carbonate to form a hard skeleton. Pillar corals (Dendrogyra cylindricus) are a type of hard coral which live in the western Atlantic Ocean. They are one of the digitate corals which resemble fingers, or a cluster of cigars, growing up from the sea floor, but without any secondary branching.Pillar corals can grow to be up to 2.5 m (8 ft) tall. They can grow on both flat and sloping sea floors at a depth of between 1 and 20 m (65 ft). They are one of the few types of hard coral whose polyps can commonly be seen feeding during the day. The coins in this series each depicting a different kind of coral. A coral reef at the background in detailed relief and a colorfull image of the coral in the front. A series of coins depicting what has long been….. but maybe will not survive the future as the corals are highly endangered.
Key selling points
First series dedicated to coral protection
Partly colored
Colorful box included
More issues to be announced soon
Rare low mintage, expected sell will occur fast!
Image gallery
Find below a gallery of all images & video available for this product. Please contact us if you require more material as we might have more available for marketing purposes.
Download image library
.
Specifications
Article ID
TV1101
Country
Tuvalu
Year
2011
Face Value
1 Dollar
Metal
Silver
Weight
1/2 oz (15.5 g)
Fineness
.925
Diameter
35 mm
Quality
Proof
Mintage
1000 pcs.
Scope of Delivery
Capsule, Box / Case, Certificate of Authenticity
Special Features
Coloured
Availability
Issued
Sold out at NumisCollect
All coins in the Coral Protection series
Find here a list of coins issued in the same series.