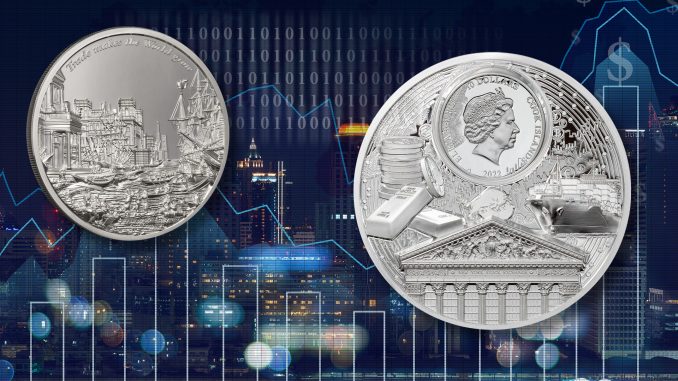 The 'Trade makes the World grow' coin is the second issue in the 'Time flies' series. Using the enhanced Smartminting©️ technology really pops all the details and gives this coin a unique look. The coin has a PROOF finish and is struck on a 2 oz pure silver 45mm blank in the highest quality. It has a limited mintage of only 333 pcs worldwide and comes in a beautiful box with a Certificate of Authenticity. Get this second edition (and a little of the first edition; see notes below) now to not miss it as the previous issue is long sold
Coin description
The reverse of the coin depicts a harbour scene from the 16-17th century with traders, ships, a light house and buildings including the Villa Medici. At the top written "Trade makes the World grow" (the name of the coin).
The obverse side of the coin depicts trade in the 21th century. Elements include a large container ship, stock exchange, gold bars and silver coins, crypto and currency trading and more. The bulls and bears fight in the middle. The obverse also has the Coat of Arms with Queen Elizabeth II and the inscriptions: "COOK ISLANDS" (the issuing country), "2022" (the year of issue) and "10 DOLLARS" (the face value).
Detail: Previous coin issue present
The coin also features the previous issue 'Exploration: Voyagers Thirst for Discovery'. If you look closely at the stack of coins you see the contours of the previous issue. It's small, but it's there and it has details. You can see the tilted coat of arms, the astronaut and the mars lander. You can also see Columbus and his ships. Isn't that a great detail?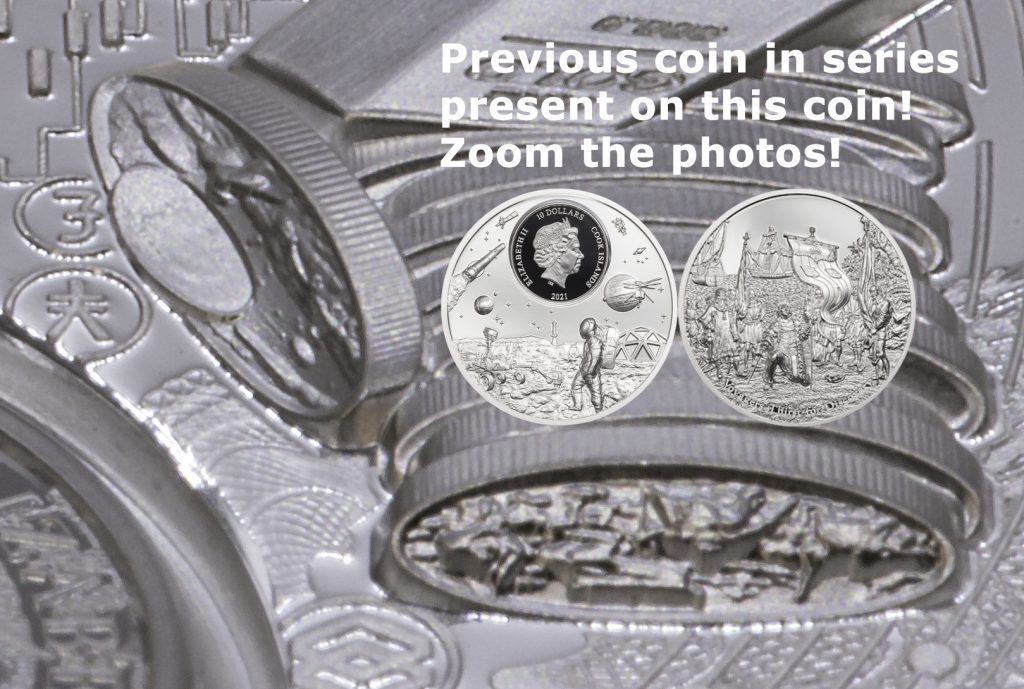 Background information
Trade dates back centuries but it wasn't until the 16-17th century that worldwide trade picked up. It was in the 16th century that European mariner adventures mapped sea routes around the world. Traders would bring goods overseas and bring back other goods to trade back home. The coin depicts such a harbor scene in Europe. At the same time the first stock exchanges emerged in Antwerpen and Amsterdam. All this evolved over the next four centuries into what trade is today.
Today trade is faster, bigger, and interesting opportunities are coming with crypto and metaverses. Sailing ships turned into super container freighters. Stock exchanges are connected to super-fast internet connections to trade faster. Gold and silver are a must have asset against inflation. Last but not least crypto emerged a decade ago. With Bitcoin leading, and many others following. Some just for fun, but many have great use cases like decentralized social media tokens as SocialBlox.io $SBLX and others. Mass adoption is now and trade and economics will change once again.
TRADE MAKES THE WORLD GROW. In the past, the now and in the future.
Key selling points
Smartminting©️
Special Obverse with titled coat of arms
Ultra fine detailed high relief
Best PROOF quality
Low mintage 333 pcs.
Image gallery
Find below a gallery of all images & video available for this product. Please contact us if you require more material as we might have more available for marketing purposes.
Download image library
.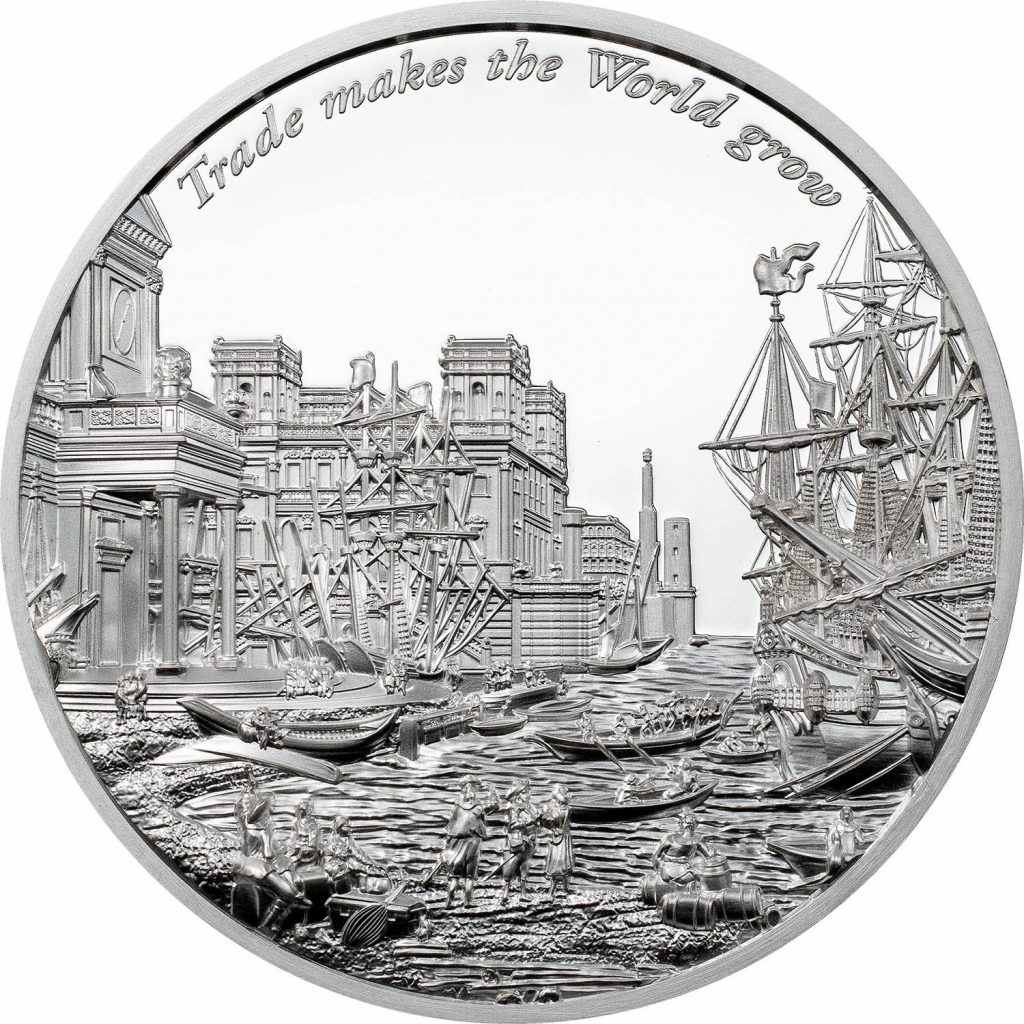 Specifications
Article ID
CK2207
Country
Cook Islands
Year
2022
Face Value
10 Dollars
Metal
Silver
Weight
2 oz (62.2 g)
Fineness
.999
Diameter
45 mm
Quality
Proof
Mintage
333 pcs.
Scope of Delivery
Capsule, Box / Case, Certificate of Authenticity
Special Features
Smartminting©, Classic Style
Availability
Issued
Sold out at NumisCollect
All coins in the Time Flies series
Find here a list of coins issued in the same series.