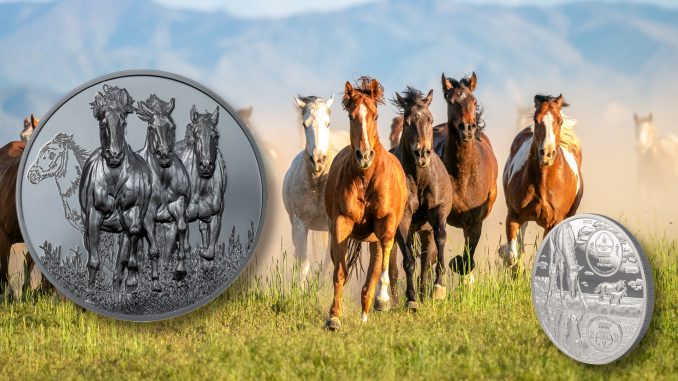 The 'Stallion' coin is the second issue in the 'Growing Up' series. The impossible has been made possible using the enhanced Smartminting©️ technology and brings the stallion to life. The coin has an PROOF finish on the obverse and a Black PROOF finish on the reverse! It is struck on a 2 oz pure silver 45mm blank in the highest quality. It has a limited mintage of only 333 pcs worldwide and comes in a beautiful box with a Certificate of Authenticity. Add this second edition to your collection. They are available at your local modern coin dealer.
Coin description
The coin's reverse depicts the stallion with his impressive appearance galloping over the steppes. You can see the stallion's thoughts about the transformation of his appearance since he was young in the stylized foal in the dust cloud behind the herd.
The coin's obverse side depicts the stallion as a foal in his younger years drinking from the water. You can see how big and strong it will become in adulthood in the reflection. In the background one can see the foal running with his mother. It also depicts the coat of arms, with the same reflection in the water, and the inscriptions: "MONGOLIA" (the issuing country), "2022" (the year of issue) and "1000 Togrog" (the face value).
Background information
Horses evolved over millions of years and around 4000 BC humans began to domesticate them. Today, horses are used by humans for a wide variety of purposes including work, sport, warfare, entertainment and more. A stallion is a male horse. The coin is about a stallion growing up in the wild.
These wild horses are adapted to run when threatened but can stand a fight as well. The female, or mare, carries the young for 11 months. After birth it will be able to stand immediately and run within no time. In the wild they roam the steppes freely. A stallion is strong, has muscle and does have some temperament now and then although stallions to not fight each other to the death. A powerful being, which lifespan of about 30 years is struck on this beautiful coin issue.
Key selling points
Both Black PROOF as regular PROOF finish on one
Smartminting©️
Ultra high relief
The coin really tells the story of a stallion growing up!
Image gallery
Find below a gallery of all images & video available for this product. Please contact us if you require more material as we might have more available for marketing purposes.
Download image library
.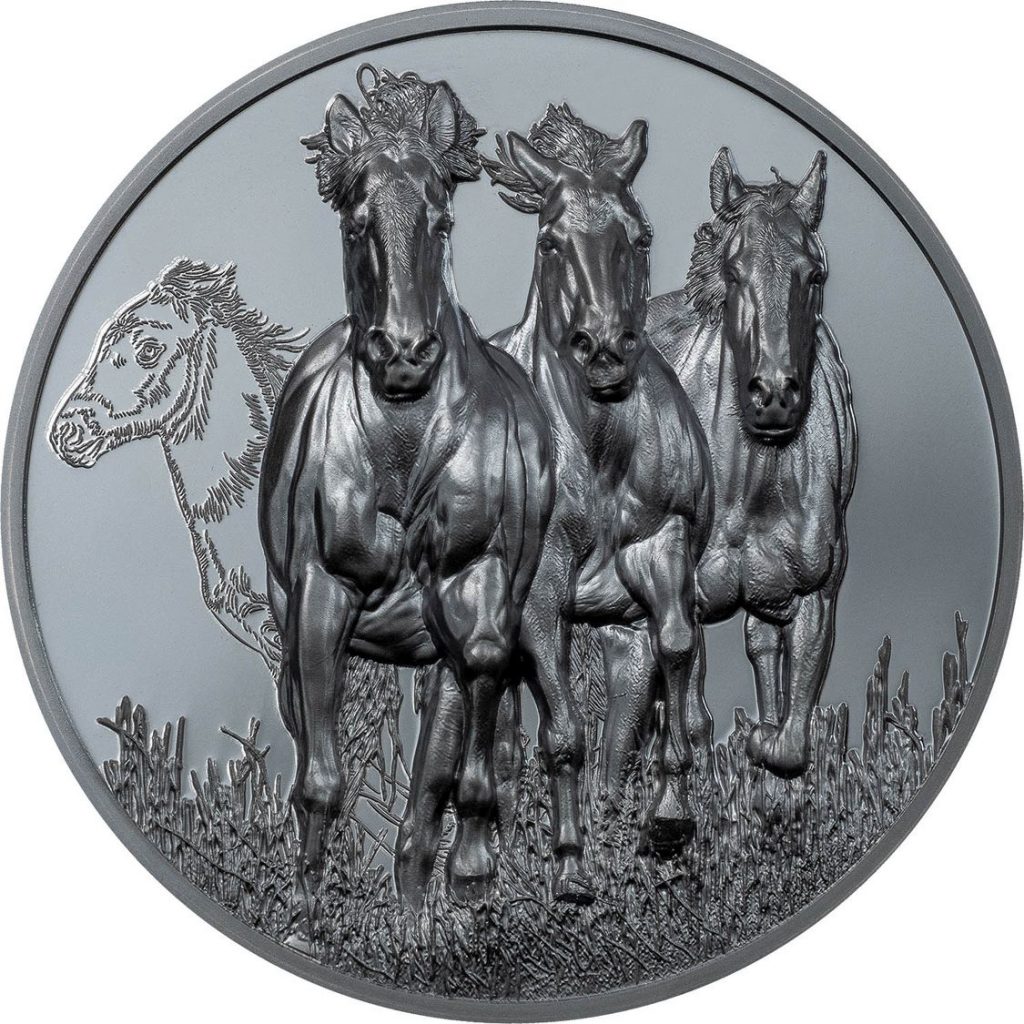 Specifications
Article ID
MN2201
Country
Mongolia
Year
2022
Face Value
1000 Togrog
Metal
Silver
Weight
2 oz (62.2 g)
Fineness
.999
Diameter
45 mm
Quality
Proof
Mintage
333 pcs.
Scope of Delivery
Capsule, Box / Case, Certificate of Authenticity
Special Features
Smartminting©, Black Proof, Classic Style
Availability
Issued
Sold out at NumisCollect
All coins in the Growing Up series
Find here a list of coins issued in the same series.