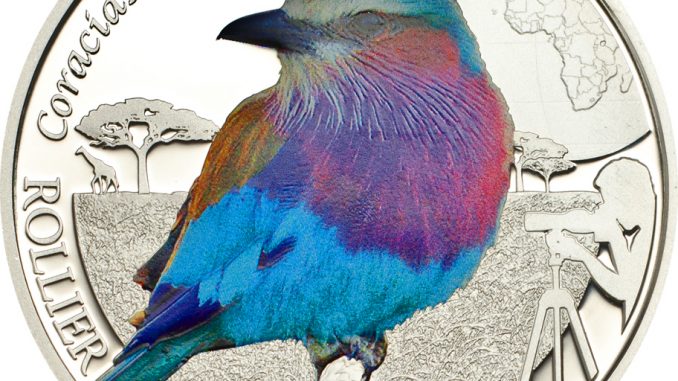 The Lilac-breasted Roller (Coracias caudatus) is a member of the roller family of birds. It is widely distributed in sub-Saharan Africa and the southern Arabian Peninsula, preferring open woodland and savanna; it is largely absent from treeless places. Usually found alone or in pairs, it perches conspicuously at the tops of trees, poles or other high vantage points from where it can spot insects, lizards, scorpions, snails, small birds and rodents moving about at ground level.
Nesting takes place in a natural hole in a tree where a clutch of 2-4 eggs is laid, and incubated by both parents, who are extremely aggressive in defence of their nest, taking on raptors and other birds. During the breeding season the male will rise to great heights, descending in swoops and dives, while uttering harsh, discordant cries.
Key selling points
Partly enameled
Colorful box included
Low mintage
Image gallery
Find below a gallery of all images & video available for this product. Please contact us if you require more material as we might have more available for marketing purposes.
Download image library
.
Specifications
Article ID
BF1301
Country
Burkina Faso
Year
2013
Face Value
500 Francs
Metal
Silver
Weight
1/2 oz (15.5 g)
Fineness
.925
Diameter
38.61 mm
Quality
Proof
Mintage
1000 pcs.
Scope of Delivery
Capsule, Box / Case, Certificate of Authenticity
Special Features
Coloured
Availability
Issued
Few left at NumisCollect
All coins in the Bird Watching series
Find here a list of coins issued in the same series.