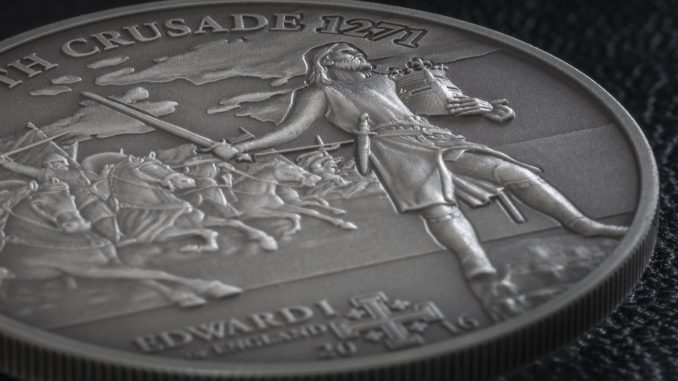 This 9th issue in the Crusaders series will be another interesting historical coin.
The Ninth Crusade, which is sometimes grouped with the Eighth Crusade, is commonly considered to be the last major medieval Crusade to the Holy Land. It took place in 1271-1272. Louis IX of France's failure to capture Tunis in the Eighth Crusade led Henry III of England's son Edward to sail to Acre in what is known as the Ninth Crusade. The Ninth Crusade saw several impressive victories for Edward over Baibars. Ultimately the Crusade did not so much fail as withdraw, since Edward had pressing concerns at home and felt unable to resolve the internal conflicts within the remnant Outremer territories. It is arguable that the Crusading spirit was nearly "extinct", by this period as well. It also foreshadowed the imminent collapse of the last remaining crusader strongholds along the Mediterranean coast.
Key selling points
Highly detailed coins with common obverse on all coin
Subscription schema possible
Antique finish which makes the coin very interesting to see
Image gallery
Find below a gallery of all images & video available for this product. Please contact us if you require more material as we might have more available for marketing purposes.
Download image library
.
Specifications
Article ID
CK1606
Country
Cook Islands
Year
2016
Face Value
5 Dollars
Metal
Silver
Weight
25 g
Fineness
.925
Diameter
38.61 mm
Quality
Antique Finish
Mintage
1000 pcs.
Scope of Delivery
Capsule, Box / Case, Certificate of Authenticity
Special Features
Antique Finish
Availability
Issued
Available
All coins in the Holy Crusades series
Find here a list of coins issued in the same series.