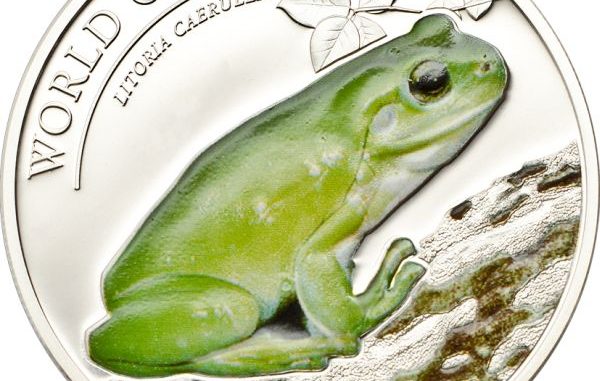 The Australian green tree frog, simply green tree frog in Australia, White's tree frog, or dumpy tree frog (Litoria caerulea) is a species of tree frog native to Australia and New Guinea, with introduced populations in New Zealand and the United States. The species belongs to the genus Litoria. It is physiologically similar to some species of the genus, particularly the magnificent tree frog (Litoria splendida) and the giant tree frog (Litoria infrafrenata).
The green tree frog is larger than most Australian frogs, reaching 10 centimetres (4 inches) in length. The average lifespan of the frog in captivity, about sixteen years, is long in comparison with most frogs. Green tree frogs are docile and well suited to living near human dwellings. They are often found on windows or inside houses, eating insects drawn by the light. The green tree frog screams when it's in danger to scare off its foe; and this particular frog squeaks when it is touched.
Due to its physical and behavioural traits, the green tree frog has become one of the most recognisable frogs in its region, and is a popular exotic pet throughout the world. The skin secretions of the frog have antibacterial and antiviral properties that may prove useful in pharmaceutical preparations.
Key selling points
Partly colored
Colorful box included
Rare low mintage, with previous coins in series sold out
Image gallery
Find below a gallery of all images & video available for this product. Please contact us if you require more material as we might have more available for marketing purposes.
Download image library
.
Specifications
Article ID
PW1302
Country
Palau
Year
2013
Face Value
2 Dollars
Metal
Silver
Weight
1/2 oz (15.5 g)
Fineness
.925
Diameter
35 mm
Quality
Proof
Mintage
1000 pcs.
Scope of Delivery
Capsule, Box / Case, Certificate of Authenticity
Special Features
Coloured
Availability
Issued
Available
All coins in the World of Frogs series
Find here a list of coins issued in the same series.