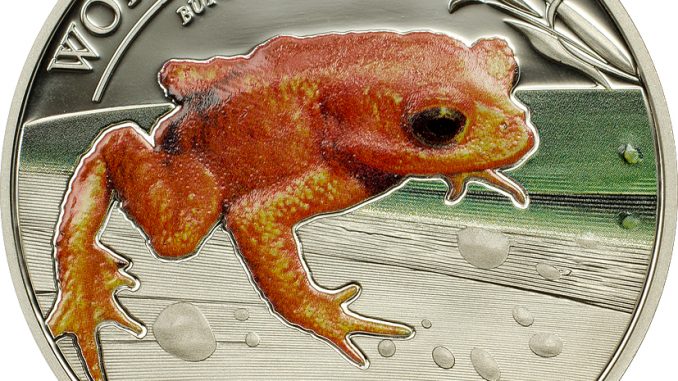 The golden toad (Bufo periglenes, also known as Cranopsis periglenes or Incilius periglenes), was a small, shiny, bright true toad that was once abundant in a small region of high-altitude cloud-covered tropical forests, about 4 square kilometres (1.5 sq mi) in area, north of the city of Monteverde, Costa Rica. For this reason, it is sometimes also called the Golden Toad of Monteverde or the Monte Verde toad and is commonly known for being the "poster child" for the Amphibian decline crisis. Other common English names include Alajuela toad and orange toad. They were first described in 1966 by the herpetologist Jay Savage. On 15 May 1989, a single male was found, and not a single B. periglenes is reported to have been seen anywhere in the world since, and it is classified by the International Union for Conservation of Nature (IUCN) as an extinct species. Its sudden extinction might have been caused by chytrid fungus and extensive habitat loss.
Key selling points
Partly colored
Colorful box included
After 25 years alive again on coin
Image gallery
Find below a gallery of all images & video available for this product. Please contact us if you require more material as we might have more available for marketing purposes.
Download image library
.
Specifications
Article ID
PW1401
Country
Palau
Year
2014
Face Value
2 Dollars
Metal
Silver
Weight
1/2 oz (15.5 g)
Fineness
.925
Diameter
35 mm
Quality
Proof
Mintage
1000 pcs.
Scope of Delivery
Capsule, Box / Case, Certificate of Authenticity
Special Features
Coloured
Availability
Issued
Available
All coins in the World of Frogs series
Find here a list of coins issued in the same series.