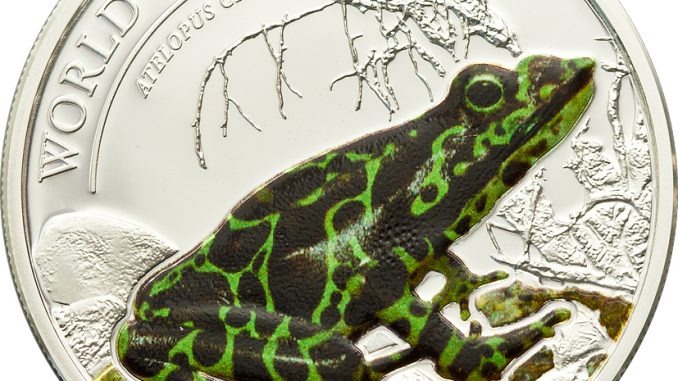 Atelopus certus is a species of toad in the Bufonidae family. It is endemic to the Darien Region of Eastern Panama, and its type locality is Cerro Sapo, giving it its common name of the Toad Mountain Harlequin Frog.Its natural habitats are subtropical or tropical moist lowland forests, subtropical or tropical moist montanes, and rivers.It is threatened primarily by the advancing wave of chytridiomycosis moving through central America, and secondarily by habitat loss, although much of its range falls with in the Darien National Park, a protected area and world heritage site. Because so many other Atelopus species are in steep declines this amphibian is seen as a priority species for ex-situ conservation. In June 2010, a team of conservation partners working under the banner of the Panama Amphibian Rescue and Conservation Project mounted an expedition to the Darien and brought back a founding population of these frogs to begin an ex-situ conservation program at the Summit Municipal Park near Panama City.
Key selling points
Partly colored
Colorful box included
Rare low mintage, expected sell will occur very fast
Image gallery
Find below a gallery of all images & video available for this product. Please contact us if you require more material as we might have more available for marketing purposes.
Download image library
.
Specifications
Article ID
PW1111-13
Country
Palau
Year
2011
Face Value
1 Dollar
Metal
Silver
Weight
1/2 oz (15.5 g)
Fineness
.925
Diameter
35 mm
Quality
Proof
Mintage
3 x 500 pcs.
Scope of Delivery
Capsule, Box / Case, Certificate of Authenticity
Special Features
Coloured
Availability
Issued
Sold out at NumisCollect
All coins in the World of Frogs series
Find here a list of coins issued in the same series.