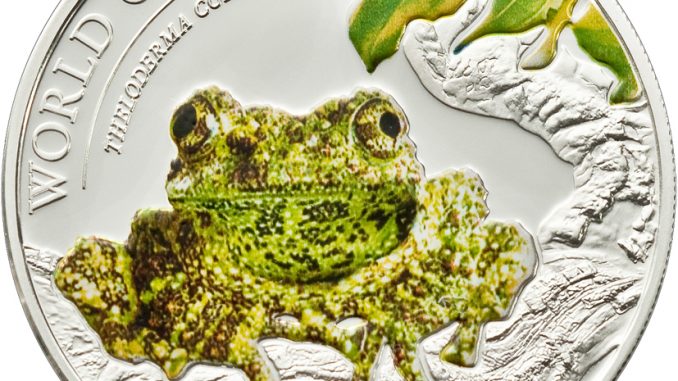 A series of colourful coins dedicated to the most intrigues frogs around the world. A great addition to any coin collector and frog lover. Discover the beauty of frogs through this beautiful series of coins.
The Mossy Frog, Vietnamese Mossy Frog, or Tonkin Bug-eyed Frog (Theloderma corticale), is a species of frog in the Rhacophoridae family. It is found in Northern Vietnam and possibly China. Its natural habitats are subtropical or tropical moist lowland forests, subtropical or tropical moist montanes, freshwater marshes, intermittent freshwater marches, and rocky areas. It is a semi-aquatic, semi-arboreal species that is threatened by habitat loss. The common name of the mossy frog arises from the fact that its skin is a mottled green and brown that resembles moss growing on rock, and forms an effective form of camouflage. They have large sticky pads on their toes and a soft underbelly. As with most Tree Frogs, the females will grow larger than the males and can reach sizes of 7-8cm (3 inches). This species will curl into a ball when frightened, and play dead.
Key selling points
First in a series of coins dedicated to the most beautiful frogs of the world
Partly colored
Colorful box included
Rare low mintage, expected sell will occur very fast
Image gallery
Find below a gallery of all images & video available for this product. Please contact us if you require more material as we might have more available for marketing purposes.
Download image library
.
Specifications
Article ID
PW1104
Country
Palau
Year
2011
Face Value
2 Dollars
Metal
Silver
Weight
1/2 oz (15.5 g)
Fineness
.925
Diameter
35 mm
Quality
Proof
Mintage
1000 pcs.
Scope of Delivery
Capsule, Box / Case, Certificate of Authenticity
Special Features
Coloured
Availability
Issued
Sold out at NumisCollect
All coins in the World of Frogs series
Find here a list of coins issued in the same series.