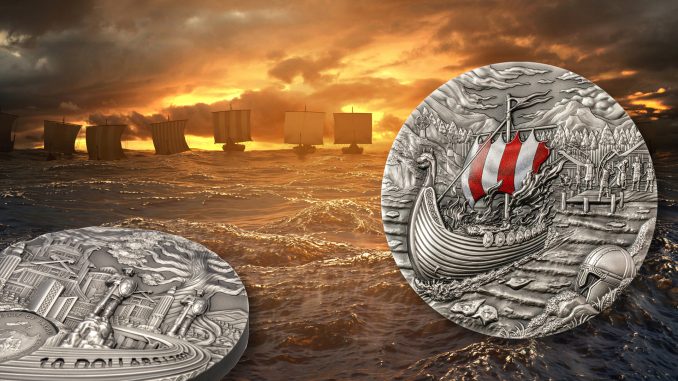 The 'Vikings' coin is the first issue in the 'Afterlife – Rites of Passage' series. It shows the burial rites of a fallen Viking king on the reverse and the afterlife 'Valhalla' on the obverse. This coin is struck using the enhanced Smartminting©️ technology which results in stunning ultra high relief on both sides. The coin has an antique finish with color and is struck on a 2 oz pure silver 45mm blank in the highest quality. It has a limited mintage of only 555 pcs worldwide and comes in a beautiful box with Certificate of Authenticity. Get this first edition now to not miss out on this series.
Coin description
The obverse shows a Viking burial ceremony. A Viking village and relatives of the deceased are in the background. On the lower right is the helmet of the fallen king who lays on the ship with all his most important belongings. It's set on fire by arrows. The sail is colored in Viking colors.
The reverse side of the coin depicts Valhalla in the background with the rainbow bridge Bifröst in the front. On the right side is the golden Glasir tree which stand in front of the eternal Hall. The Coat of Arms of Palau is inserted on the right with the inscriptions: "REPUBLIC OF PALAU" (the issuing country) and "2021" (the year of issue) and "10 DOLLARS" (the face value) on the rainbow bridge.
Background information
Vikings cremated their individuals of high stature and honour through a ship burial ceremony. They would be placed on a traditional Viking ship in a horizontal position. Various personal belongings and other artifacts that could be used in the afterlife were placed around them. The ship would then set sail and put on fire by an arrow. This marked the start of the journey to the afterlife, from Midgard (Earth) to Asgard.
Valhalla is the Vikings afterlife. It consists of a huge hall where the Viking warriors would be able to spend the rest of eternity feasting together. However, this privilege was only reserved for Vikings who died while fighting honourably in combat. In front of hall one finds the Glasir tree bearing red and golden leaves and said to be the most beautiful among gods and men.
Key selling points
Smartminting©️
Low mintage 555 pcs.
Partial color
Innovative concept
Image gallery
Find below a gallery of all images & video available for this product. Please contact us if you require more material as we might have more available for marketing purposes.
Download image library
.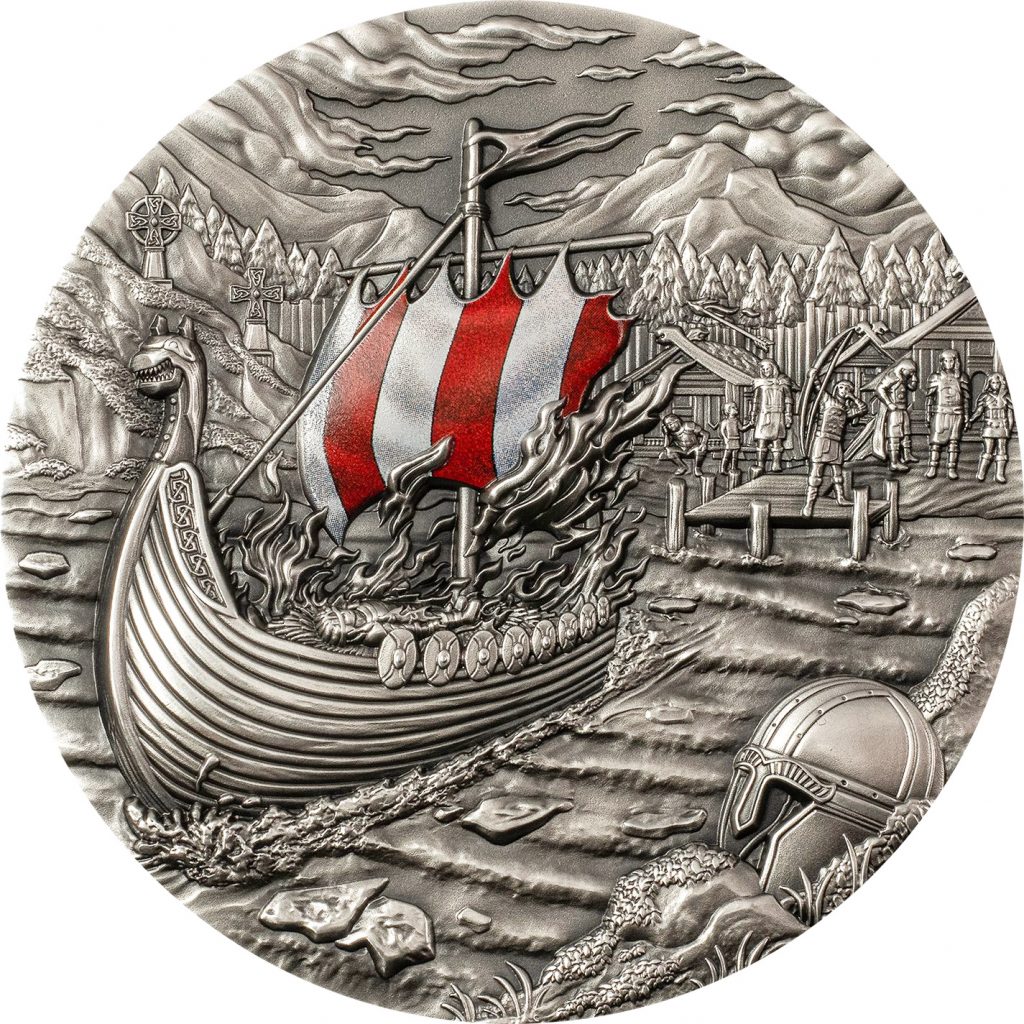 Specifications
Article ID
PW2105
Country
Palau
Year
2021
Face Value
10 Dollars
Metal
Silver
Weight
2 oz (62.2 g)
Fineness
.999
Diameter
45 mm
Quality
Antique Finish
Mintage
555 pcs.
Scope of Delivery
Capsule, Box / Case, Certificate of Authenticity
Special Features
Smartminting©, Coloured
Availability
Issued
Sold out at NumisCollect
All coins in the Rites of Passage & Afterlife series
Find here a list of coins issued in the same series.