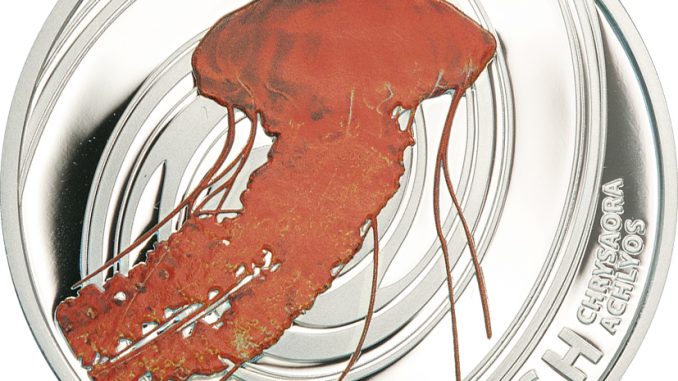 The black sea nettle (Chrysaora achlyos), sometimes informally known as the "black jellyfish" due to its dark coloration, is a species of jellyfish that can be found in the waters of the Pacific Ocean. Its range is thought to be from Monterey Bay in the north, down to southern Baja California and Mexico, though there are reports of sightings as far north as British Columbia. It is a giant jellyfish, with its bell measuring up to 1 m (3 ft) in size, and its oral arms extending up to 6 m (20 ft) in length. Despite its size and occasional proximity to Pacific coastal cities, the Black sea nettle was only recognized and scientifically described as a separate species in 1997, though misidentified pictures of the jellyfish had been taken in 1925. It has the scientific distinction of being the largest invertebrate discovered in the twentieth century.
Key selling points
Unique coloring technique with realistic colors.
High requested series
Image gallery
Find below a gallery of all images & video available for this product. Please contact us if you require more material as we might have more available for marketing purposes.
Download image library
.
Specifications
Article ID
PN1104
Country
Pitcairn Islands
Year
2011
Face Value
2 Dollars
Metal
Silver
Weight
1/2 oz (15.5 g)
Fineness
.925
Diameter
35 mm
Quality
Proof
Mintage
1000 pcs.
Scope of Delivery
Capsule, Box / Case, Certificate of Authenticity
Special Features
Coloured
Availability
Issued
Available
All coins in the Jellyfish & Deep Sea Fish series
Find here a list of coins issued in the same series.