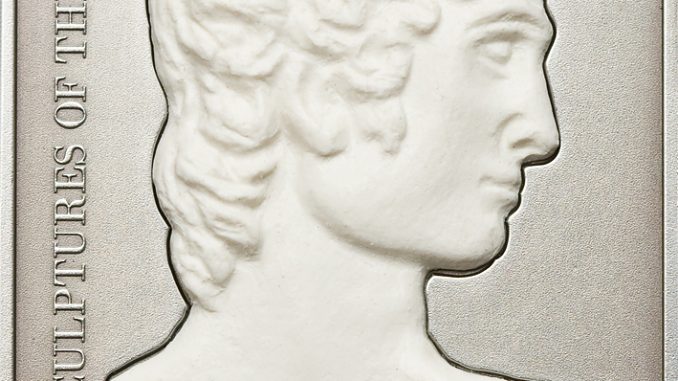 Perhaps the most famous statue in the world today is the Statue of David by Michelangelo. In 1501 Michelangelo was commissioned to create the David by the Arte della Lana (Guild of Wool Merchant), who were responsible for the upkeep and the decoration of the Cathedral in Florence. For this purpose, he was given a block of marble which Agostino di Duccio had already attempted to fashion forty years previously, perhaps with the same subject in mind. Michelangelo places him in the most perfect contraposto, as in the most beautiful Greek representations of heroes. The right-hand side of the statue is smooth and composed while the left-hand side, from the outstretched foot all the way up to the disheveled hair is openly active and dynamic. The muscles and the tendons are developed only to the point where they can still be interpreted as the perfect instrument for a strong will, and not to the point of becoming individual self-governing forms. Once the statue was completed, a committee of the highest ranking citizens and artists decided that it must be placed in the main square of the town, in front of the Palazzo Vecchio, the Town Hall. It was the first time since antiquity that a large statue of a nude was to be exhibited in a public place. Strength and Wrath were the two most important virtues, characteristic of the ancient patron of the city Hercules. Both these qualities of passionate strength and wrath were embodied in the Statue of David.
Key selling points
Including a real miniature of the sculpture
Unique concept and unique among its kind.
First coin in a continuing series.
Image gallery
Find below a gallery of all images & video available for this product. Please contact us if you require more material as we might have more available for marketing purposes.
Download image library
.
Specifications
Article ID
CK1002
Country
Cook Islands
Year
2010
Face Value
5 Dollars
Metal
Silver
Weight
25 g
Fineness
.925
Diameter
30x38 mm
Quality
Antique Finish
Mintage
2500 pcs.
Scope of Delivery
Capsule, Box / Case, Certificate of Authenticity
Special Features
Antique Finish, Stone insert
Availability
Issued
Available
All coins in the Sculptures of the World series
Find here a list of coins issued in the same series.