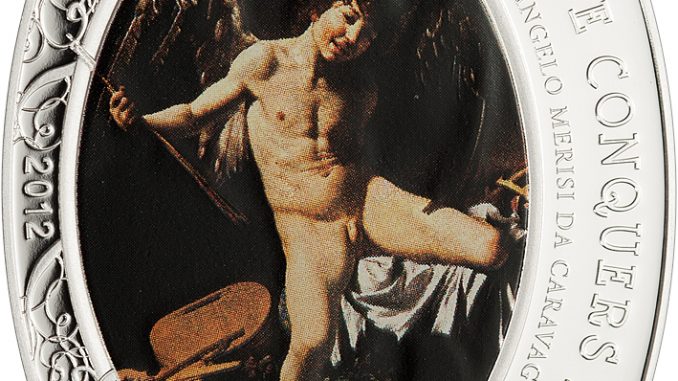 Amor Vincit Omnia ("Love Conquers All", known in English by a variety of names including Amor Victorious, Victorious Cupid, Love Triumphant, Love Victorious, or Earthly Love) is a painting by the Italian early realist / post-Mannerist artist Caravaggio.
Amor Vincit Omnia shows Amor, the Roman Cupid, wearing dark eagle wings, half-sitting on or perhaps climbing down from what appears to be a table. Scattered around are the emblems of all human endeavours violin and lute, armour, coronet, square and compasses, pen and manuscript, bay leaves, and an astral globe, tangled and trampled under Cupid's foot. The painting illustrates the line from Virgil's Eclogues X.69, Omnia vincit amor et nos cedamus amori ("Love conquers all; let us all yield to love!"). A musical manuscript on the floor shows a large "V". It has therefore been suggested also that the picture is a coded reference to the attainments of Vincenzo Giustiniani: his Genoese family ruled Chios (until the island's capture by the Turks) in 1622, hence the coronet; the cultivated Marchese also wrote about music and painting (pen, manuscript and musical instruments), was constructing an imposing new palazzo (geometrical instruments), studied astronomy (astral sphere), and was praised for his military prowess (armour). The symbology thus holds the possible reading: Vincenzo Conquers All. Giustiniani is said to have prized it above all other works in his collection.
Text source: Wikipedia
Key selling points
Oval shape with oval color insert
Love coin
Image gallery
Find below a gallery of all images & video available for this product. Please contact us if you require more material as we might have more available for marketing purposes.
Download image library
.
Specifications
Article ID
CK1201
Country
Cook Islands
Year
2012
Face Value
5 Dollars
Metal
Silver
Weight
20 g
Fineness
.925
Diameter
30x35 mm
Quality
Proof
Mintage
1000 pcs.
Scope of Delivery
Capsule, Box / Case, Certificate of Authenticity
Special Features
Coloured, Special Shape
Availability
Issued
Available
All coins in the Angels series
Find here a list of coins issued in the same series.