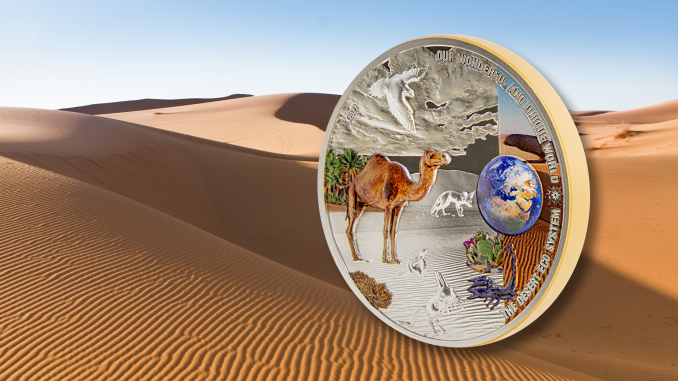 The 'Desert' coin is the third issue in the 'Our Wonderful Earth Ecosystems' series. The impossible has been made possible using the enhanced Smartminting©️ technology and brings the desert to life. The coin has PROOF finish and is partly made in color, with a unique sand-colored edge, struck on a 2 oz .999 silver 38.61mm blank in the highest quality. A limited mintage of only 499 pcs worldwide and comes in a beautiful box with a Certificate of Authenticity. Get this third edition which fits various themed collections.
Coin description
The reverse of the coin depicts the desert with the many animals that live there. Including a camel, fox, snake, mouse and scorpion. The Saharan rainforest is centered on the globe and the inscriptions: "OUR WONDERFUL AND UNIQUE WORLD" (the name of the series) and "THE DESERT ECO SYSTEM" (the name of the coin). The year of issue "2022" is written on the top left. This coin is unique because of its sand-colored edge.
The obverse side of the coin depicts the standard Coat of Arms of the Republic of Palau with the inscriptions: "REPUBLIC OF PALAU" (the issuing country) and "10$" (the face value).
Background information
A desert is a barren area of landscape where little precipitation occurs and, consequently, living conditions are hostile for plant and animal life. Plants and animals living in the desert need special adaptations to survive in the harsh environment. Plants tend to be tough and wiry with small or no leaves, water-resistant cuticles, and often spines to deter herbivory. Animals need to keep cool and find enough food and water to survive. Many are nocturnal and stay in the shade or underground during the heat of the day. They tend to be efficient at conserving water, extracting most of their needs from their food.
Although a desert might look dead, there is plenty of life.
Key selling points
Smartminting©️
Colored edge!
Ultra high relief
One can see a lot happening in the design!
Image gallery
Find below a gallery of all images & video available for this product. Please contact us if you require more material as we might have more available for marketing purposes.
Download image library
.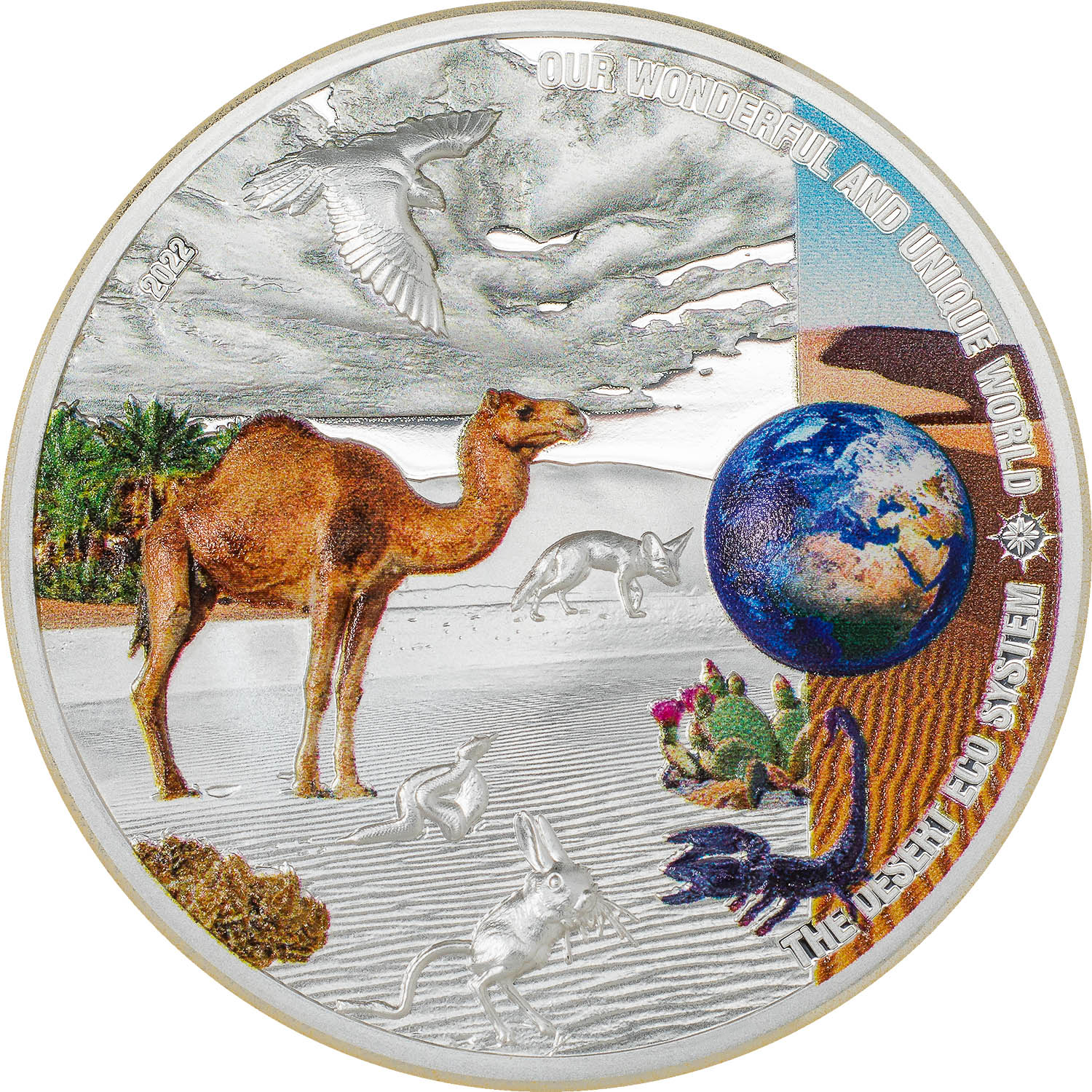 Specifications
Article ID
PW2208
Country
Palau
Year
2022
Face Value
10 Dollars
Metal
Silver
Weight
2 oz (62.2 g)
Fineness
.999
Diameter
38.61 mm
Quality
Proof
Mintage
499 pcs.
Scope of Delivery
Capsule, Box / Case, Certificate of Authenticity
Special Features
Smartminting©, Coloured
Availability
Issued
Few left at NumisCollect
All coins in the Our Wonderful Earth Ecosystems series
Find here a list of coins issued in the same series.