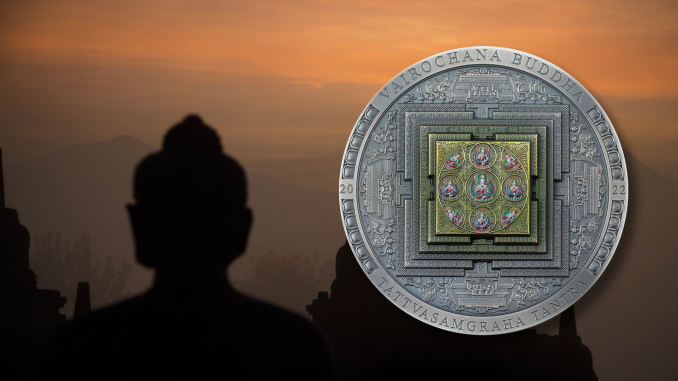 The Vairochana Buddha Mandala coin is the 9th issue in the 'Archeology & Symbolism' series. Taking advantage of the enhanced ultra-high relief Smartminting©️ technology puts the artwork in a completely new perspective. The coin has an antique finish (or silk finish for the gilded) and is struck on a huge 3 oz pure .999 silver 65mm blank in the highest quality possible. It has a limited mintage of only 111 pcs for the colored antique (plus 333 pcs antiqued, and 111 pcs gilded). The coin comes in a beautiful box with a Certificate of Authenticity. Get the 9th edition of this series now at your local modern coin dealer before it gets sold out as all previous issues did.
Coin description
The reverse of the coin depicts the Mandala of Tattvasamgraha Tantra, with Buddhist Vairochana in the center and inscription: "Vairochana Buddha – Tattvasamgraha Tantra" (the name) and "2022" (the year of issue). It has ultra-high relief and interesting small details of the original Mandala of Vairochana.
The obverse side of the coin depicts the standard Coat of Arms of Mongolia with circles and with the inscriptions: "MONGOLIA" (the issuing country), "2000 TOGROG" (the face value) and "3oz .999 SILVER" (the weight and the fineness of the Silver).
Background information
Vairochana (also Vairocana) is called the Sun Buddha (in Mahayana and Vajrayana Buddhism teachings) and is the Primoridial Buddha and sits in the central place of the Five Wisdom Buddhas mandala surrounded by the four other Wisdom Buddhas who sit at the cardinal points. The Five Wisdom Buddhas arose during the Mahayana development in India and were taken up by Tantric Buddhism.
Vairocana Buddha is first introduced in the Brahmajala Sutra:
Now, I, Vairocana Buddha am sitting atop a lotus pedestal; On a thousand flowers surrounding me are a thousand Sakyamuni Buddhas. Each flower supports a hundred million worlds; in each world a Sakyamuni Buddha appears. All are seated beneath a Bodhi-tree, all simultaneously attain Buddhahood. All these innumerable Buddhas have Vairocana as their original body.
Key selling points
Heavy 3oz silver coin
Interesting small details
Unique concept series
Low mintage 111 pcs.
Smartminted©️ ultra high relief on 65mm
Image gallery
Find below a gallery of all images & video available for this product. Please contact us if you require more material as we might have more available for marketing purposes.
Download image library
.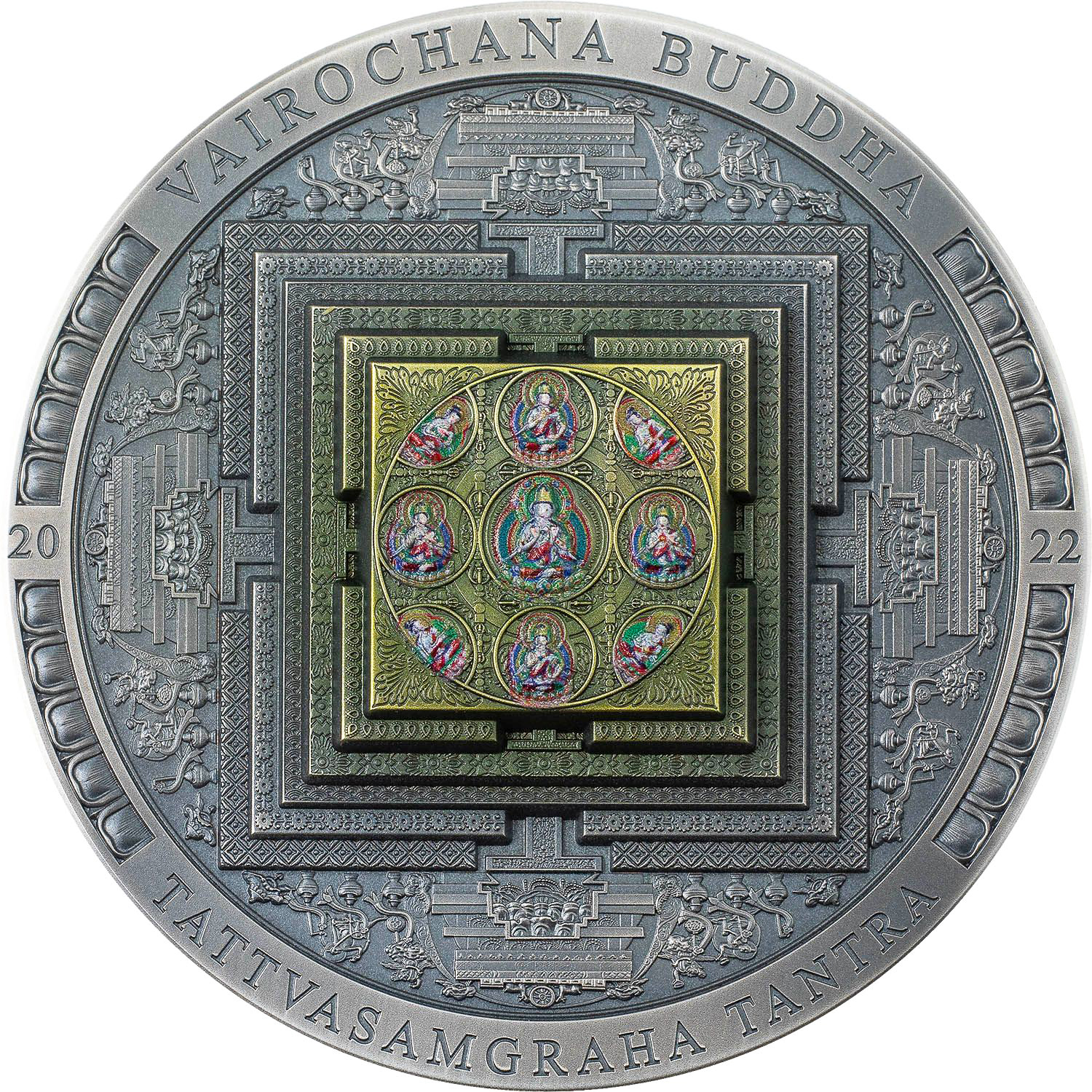 Specifications
Article ID
MN2205
Country
Mongolia
Year
2022
Face Value
2000 Togrog
Metal
Silver
Weight
3 oz (93.3 g)
Fineness
.999
Diameter
65 mm
Quality
Antique Finish
Mintage
111 pcs.
Scope of Delivery
Capsule, Box / Case, Certificate of Authenticity
Special Features
Smartminting©, Antique Finish, Coloured
Availability
Issued
Sold out at NumisCollect
All coins in the Archeology & Symbolism series
Find here a list of coins issued in the same series.
More