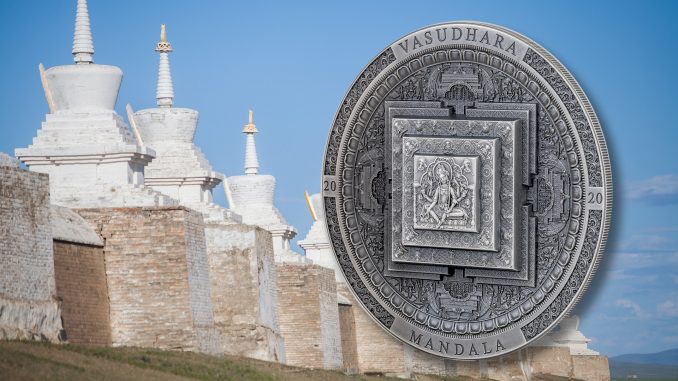 The 'Vasudhara Mandala' coin is the 5th issue in the 'Archeology & Symbolism' series and takes the series to new ultra relief heights. The impossible has been made possible using the enhanced Smartminting©️ technology and pops out the mandala. The coin has an antique finish and is struck on a 3 oz pure silver huge 65mm blank in the highest quality. A limited mintage of only 333 pcs and 99 gilded pcs worldwide. Coin comes in a beautiful box with a Certificate of Authenticity. Get this 5th edition now to complete your collection.
Coin description
The reverse of the coin depicts the Mandala of Vasudhara, with Buddhist Vasudhala in the center and inscription: "Vasudhara Mandala" (the name) and "2020" (the year of issue). It has ultra-high relief and interesting small details of the original Mandala of Vasudhara.
The obverse side of the coin depicts the standard Coat of Arms of Mongolia with circles and with the inscriptions: "MONGOLIA" (the issuing country), "2000 TOGROG" (the face value) and "3oz .999 SILVER" (the weight and the fineness of the Silver).
Background information
Vasudhara is the Buddhist Bodhisattva of wealth, prosperity, and abundance with one face and six hands. Vasudhara holds various objects in her hands that are attributed to her. She is popular in many Buddhist countries and is often a subject in Buddhist legends and art. One of the earliest representations of Vasudhara is a Paubha (known as the Mandala of Vasudhara), a traditional religious painting on cotton made by the Newar people of Nepal and was used to help the practitioner meditate.
Key selling points
Smartminting©️
Ultra high relief with fine details
Special coat of arms
Low mintage
Image gallery
Find below a gallery of all images & video available for this product. Please contact us if you require more material as we might have more available for marketing purposes.
Download image library
.
Specifications
Article ID
MN2002
Country
Mongolia
Year
2020
Face Value
2000 Togrog
Metal
Silver
Weight
3 oz (93.3 g)
Fineness
.999
Diameter
65 mm
Quality
Antique Finish
Mintage
333 pcs.
Scope of Delivery
Capsule, Box / Case, Certificate of Authenticity
Special Features
Smartminting©, Antique Finish
Availability
Issued
Sold out at NumisCollect
All coins in the Archeology & Symbolism series
Find here a list of coins issued in the same series.
More