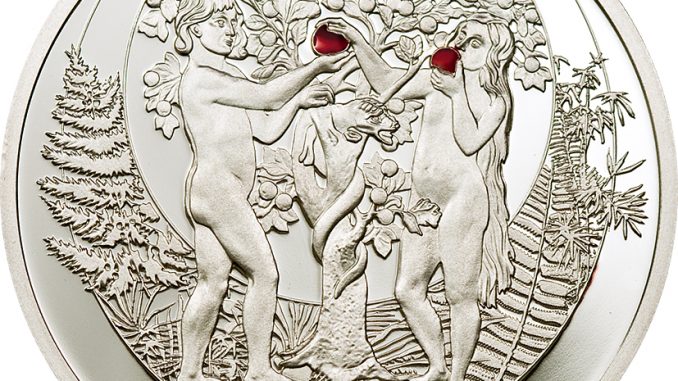 The Bible is a collection of sacred scripture of both Judaism and Christianity. There is no single version: both the individual books (Biblical canon) and their order vary. The Hebrew Bible contains 24 books that were rearranged into 39 by Christian denominations, while complete Christian Bibles range from the 66 books of the Protestant canon to 81 books in the Ethiopian Orthodox Bible. The oldest surviving Christian Bibles are Greek manuscripts from the 4th century; the oldest complete Jewish Bible is a Greek translation, also dating to the 4th century. The oldest complete manuscripts of the Hebrew Bible (the Masoretic text) date from the Middle Ages.

This series of coins will contain the most famous stories from the Bible. Starting with the creation of the world; followed by Adam & Eve. Each coin partly enamelled with one colour to make everything very attractive. A general obverse connects each coin in the series.
Key selling points
First two in a series of coins dedicated to biblical stories
Partly enameled
Colorful box included
Rare low mintage, expected sell will occur very fast!
Image gallery
Find below a gallery of all images & video available for this product. Please contact us if you require more material as we might have more available for marketing purposes.
Download image library
.
Specifications
Article ID
PW1102
Country
Palau
Year
2006
Face Value
2 Dollars
Metal
Silver
Weight
1/2 oz (15.5 g)
Fineness
.925
Diameter
35 mm
Quality
Proof
Mintage
1000 pcs.
Scope of Delivery
Capsule, Box / Case, Certificate of Authenticity
Special Features
Partly enameled
Availability
Issued
Sold out at NumisCollect
All coins in the Biblical Stories series
Find here a list of coins issued in the same series.