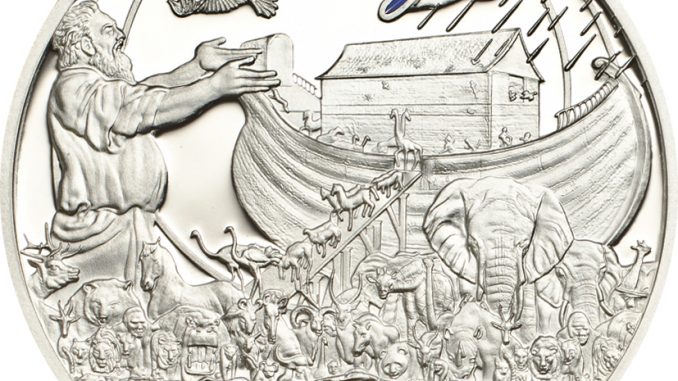 Noah's Ark is the vessel in the Genesis flood narrative (Genesis chapters 6-9) by which the Patriarch Noah saves himself, his family, and a remnant of all the world's animals when God decides to destroy the world because of mankind's evil deeds. God gives Noah detailed instructions for building the ark: it is to be of gopher wood, smeared inside and out with pitch, with three decks and internal compartments; it will be 300 cubits long, 50 wide, and 30 high; it will have a roof "finished to a cubit upward", and an entrance on the side.
Key selling points
Partly enameled
Colorful box included
Low mintage
Image gallery
Find below a gallery of all images & video available for this product. Please contact us if you require more material as we might have more available for marketing purposes.
Download image library
.
Specifications
Article ID
PW1307
Country
Palau
Year
2013
Face Value
2 Dollars
Metal
Silver
Weight
1/2 oz (15.5 g)
Fineness
.925
Diameter
35 mm
Quality
Proof
Mintage
1000 pcs.
Scope of Delivery
Capsule, Box / Case, Certificate of Authenticity
Special Features
Partly enameled
Availability
Issued
Few left at NumisCollect
All coins in the Biblical Stories series
Find here a list of coins issued in the same series.