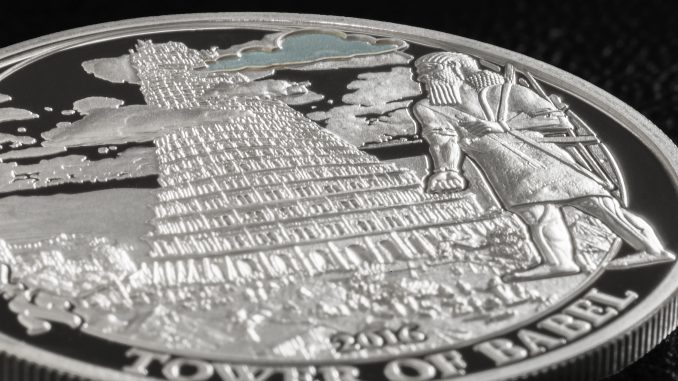 A new issue in this award winning series! Now including a special edition. Just 900 coins will be issued with blue clouds of which 800 are available as single coins. The remaining 100 are available exclusive with the white cloud in a 2 coin set.
The Tower of Babel is an etiological myth in the Book of Genesis of the Tanakh (also referred to as the Hebrew Bible or the Old Testament) meant to explain the origin of different languages. According to the story, a united humanity of the generations following the Great Flood, speaking a single language and migrating from the east, came to the land of Shinar. There they agreed to build a city and a tower "tall enough to reach heaven"; seeing this, God confounded their speech so that they could no longer understand each other and scattered them around the world.
Key selling points
Bible topic for gifts
Partly enameled
Colorful box included
Low mintage
Special 2 coin box
Image gallery
Find below a gallery of all images & video available for this product. Please contact us if you require more material as we might have more available for marketing purposes.
Download image library
.
Specifications
Article ID
PW1602-03
Country
Palau
Year
2016
Face Value
2 Dollars
Metal
Silver
Weight
1/2 oz (15.5 g)
Fineness
.925
Diameter
35 mm
Quality
Proof
Mintage
1000 pcs.
Scope of Delivery
Capsule, Box / Case, Certificate of Authenticity
Special Features
Partly enameled
Availability
Issued
Available
All coins in the Biblical Stories series
Find here a list of coins issued in the same series.