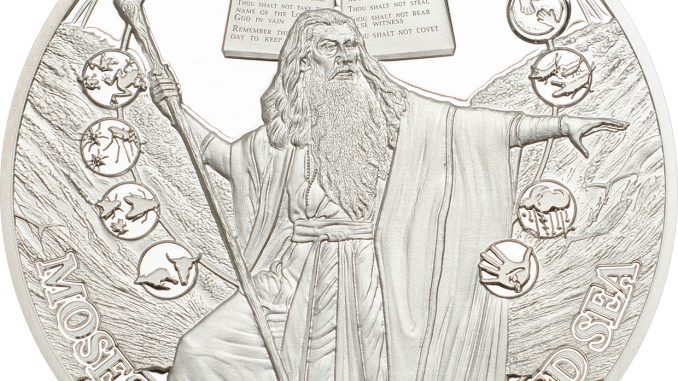 A new issue in this award winning series! This 12th issue will be issued in PURE .999 silver. The new motive is Moses with the 10 commandments and deviding the water of the Rea Sea and icons of the 10 plagues.
According to the Book of Exodus, Moses was born in a time when his people, the Israelites, an enslaved minority, were increasing in numbers and the Egyptian Pharaoh was worried that they might ally themselves with Egypt's enemies. Moses' Hebrew mother, Jochebed, secretly hid him when the Pharaoh ordered all newborn Hebrew boys to be killed in order to reduce the population of the Israelites. Through the Pharaoh's daughter (identified as Queen Bithia in the Midrash), the child was adopted as a foundling from the Nile river and grew up with the Egyptian royal family. After killing an Egyptian slavemaster (because the slavemaster was smiting a Hebrew to death), Moses fled across the Red Sea to Midian, where he encountered The Angel of the Lord, speaking to him from within a burning bush on Mount Horeb (which he regarded as the Mountain of God).
God sent Moses back to Egypt to demand the release of the Israelites from slavery. Moses said that he could not speak with assurance or eloquence, so God allowed Aaron, his brother, to become his spokesperson. After the Ten Plagues, Moses led the Exodus of the Israelites out of Egypt and across the Red Sea, after which they based themselves at Mount Sinai, where Moses received the Ten Commandments. After 40 years of wandering in the desert, Moses died within sight of the Promised Land.
Key selling points
Bible topic for gifts
Partly enameled
Colorful box included
Low mintage
Now in .999 silver
Image gallery
Find below a gallery of all images & video available for this product. Please contact us if you require more material as we might have more available for marketing purposes.
Download image library
.
Specifications
Article ID
PW1701
Country
Palau
Year
2017
Face Value
2 Dollars
Metal
Silver
Weight
1/2 oz (15.5 g)
Fineness
.999
Diameter
35 mm
Quality
Proof
Mintage
1000 pcs.
Scope of Delivery
Capsule, Box / Case, Certificate of Authenticity
Special Features
Partly enameled
Availability
Issued
Few left at NumisCollect
All coins in the Biblical Stories series
Find here a list of coins issued in the same series.