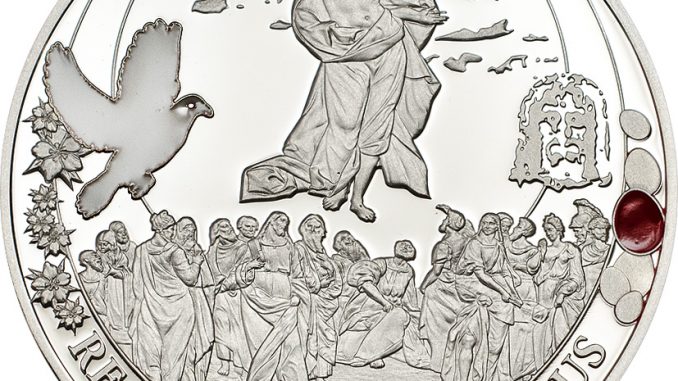 These are the "easter egg" issues. From the total mintage of only 1000 coins, there are 100 of each color Green, Yellow and Red. Together in a set, with only 100 sets; very rare issues.
The Resurrection of Jesus is the Christian belief that Jesus Christ miraculously returned to life on the Sunday following the Friday on which he was executed by crucifixion. It is the central tenet of Christian faith and theology and part of the Nicene Creed: "On the third day he rose again in accordance with the Scriptures".
In the New Testament, after the Romans crucify Jesus, he is anointed and buried in a new tomb by Joseph of Arimathea but God raises him from the dead and he appears to many people over a span of forty days before his ascension to Heaven, to sit at the Right Hand of God. Christians celebrate the resurrection of Jesus on Easter Sunday, the third day after Good Friday, the day of his crucifixion. Easter's date corresponds roughly with Passover, the Jewish observance associated with the Exodus, that is fixed for the night of the Full moon near the time of the spring equinox.
Key selling points
Partly enameled
Colorful box included
Low mintage 100 max!
Image gallery
Find below a gallery of all images & video available for this product. Please contact us if you require more material as we might have more available for marketing purposes.
Download image library
.
Specifications
Article ID
PW1404-06
Country
Palau
Year
2014
Face Value
2 Dollars
Metal
Silver
Weight
1/2 oz (15.5 g)
Fineness
.925
Diameter
35 mm
Quality
Proof
Mintage
50 pcs.
Scope of Delivery
Capsule, Box / Case, Certificate of Authenticity
Special Features
Coloured, Partly enameled
Availability
Issued
Sold out at NumisCollect
All coins in the Biblical Stories series
Find here a list of coins issued in the same series.