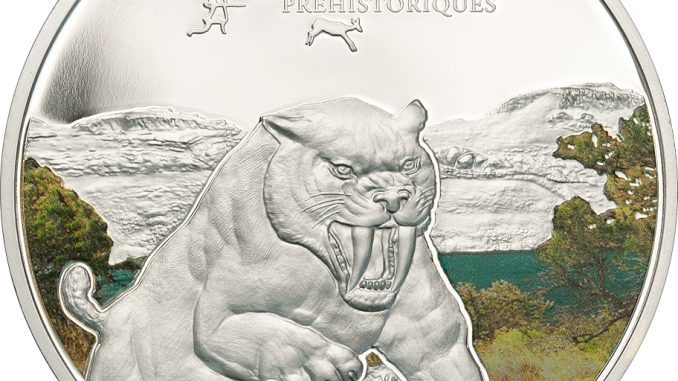 Saber-toothed cat or Sabre-toothed cat refers to the extinct subfamilies of Machairodontinae (Felidae), Barbourofelidae (Feliformia), and Nimravidae (Feliformia) as well as two families related to marsupials that were found worldwide from the Eocene Epoch to the end of the Pleistocene Epoch (42 mya – 11,000 years ago), existing for approximately 42 million years. They are so called for their large, saber-like maxillary canine teeth, which extended from their mouths even when it was closed. Despite the name, not all animals known as saber-toothed cats were closely related to modern felines. The Nimravidae are the oldest, entering the landscape around 42 mya and becoming extinct by 7.2 mya. Barbourofelidae entered around 16.9 mya and were extinct by 9 mya. These two would have shared some habitats.
Key selling points
Animals from the past everyone knows
Colorful design
Low mintage
Interesting country of issue
Image gallery
Find below a gallery of all images & video available for this product. Please contact us if you require more material as we might have more available for marketing purposes.
Download image library
.
Specifications
Article ID
CI1101
Country
Ivory Coast
Year
2011
Face Value
1000 Francs
Metal
Silver
Weight
20 g
Fineness
.925
Diameter
38.61 mm
Quality
Proof
Mintage
1000 pcs.
Scope of Delivery
Capsule, Box / Case, Certificate of Authenticity
Special Features
Coloured
Availability
Issued
Few left at NumisCollect
All coins in the Prehistoric Animals series
Find here a list of coins issued in the same series.