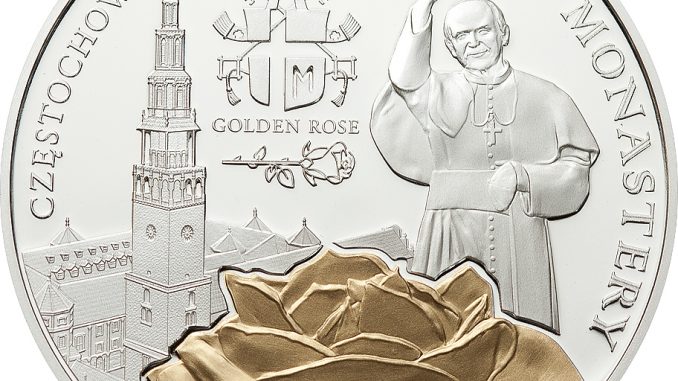 The Golden Rose is a gold ornament, which popes of the Catholic Church have traditionally blessed annually. It is occasionally conferred as a token of reverence or affection. Recipients have included churches and sanctuaries, royalty, military figures, and governments.
The Jasna Gora Monastery (Polish: Jasna Gora, English: Luminous Mount, Hungarian: Fanyes Hegy, Latin: Clarus Mons) in Cz?stochowa, Poland is the most famous shrine to the Virgin Mary in Poland and the country's greatest place of pilgrimage – for many its spiritual capital. The image of Black Madonna of Cz?stochowa, to which miraculous powers are attributed, is Jasna Gura's most precious treasure.[1] Founded in 1382 by Pauline monks who came from Hungary at the invitation of W?adys?aw, Duke of Opole. The monastery has been a pilgrimage destination for hundreds of years, and it contains the most important icon of the Virgin Mary in this part of Europe. The icon, depicting the Mother of God with the Christ Child, is known as the Black Madonna of Cz?stochowa or Our Lady of Cz?stochowa, which is widely venerated and credited with many miracles.[2] Among these, it is credited with miraculously saving the Jasna Gura monastery during a siege that took place at the time of The Deluge, a 17th century Swedish invasion. Although this event was of little military importance, the event stimulated the Polish resistance. The Poles could not immediately change the course of the war but after an alliance with the Crimean Khanate they repulsed the Swedes. Shortly thereafter, in the cathedral of Lwow, on April 1, 1656, Jan Kazimierz, the King of Poland, solemnly pronounced his vow to consecrate the country to the protection of the Mother of God and proclaimed Her the Patron and Queen of the lands in his kingdom.

Text source: Wikipedia
Key selling points
JPII religious theme
Gold plated
Attractive pricing 1/2oz silver
Image gallery
Find below a gallery of all images & video available for this product. Please contact us if you require more material as we might have more available for marketing purposes.
Download image library
.
Specifications
Article ID
PW1201
Country
Palau
Year
2012
Face Value
2 Dollars
Metal
Silver
Weight
1/2 oz (15.5 g)
Fineness
.925
Diameter
38.61 mm
Quality
Proof
Mintage
1000 pcs.
Scope of Delivery
Capsule, Box / Case, Certificate of Authenticity
Special Features
Gold-plated
Availability
Issued
Available
All coins in the Single Issues series
Find here a list of coins issued in the same series.