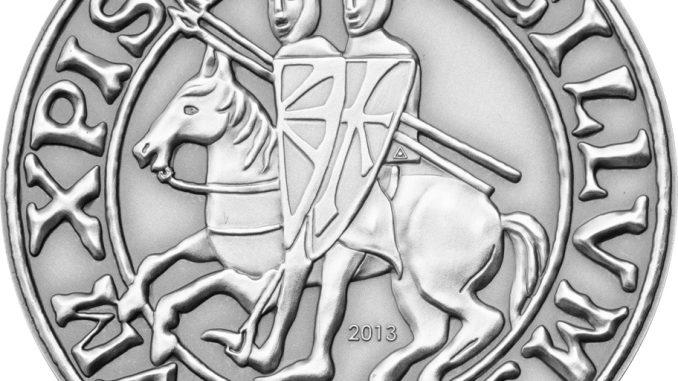 The Poor Fellow-Soldiers of Christ and of the Temple of Solomon (Latin: Pauperes commilitones Christi Templique Salomonici), commonly known as the Knights Templar, the Order of the Temple (French: Ordre du Temple or Templiers) or simply as Templars, were among the most famous of the Western Christian military orders. The organisation existed for nearly two centuries during the Middle Ages.
Officially endorsed by the Catholic Church around 1129, the Order became a favoured charity throughout Christendom and grew rapidly in membership and power. Templar knights, in their distinctive white mantles with a red cross, were among the most skilled fighting units of the Crusades.[5] Non-combatant members of the Order managed a large economic infrastructure throughout Christendom, innovating financial techniques that were an early form of banking, and building fortifications across Europe and the Holy Land.
The Templars' existence was tied closely to the Crusades; when the Holy Land was lost, support for the Order faded. Rumours about the Templars' secret initiation ceremony created mistrust and King Philip IV of France, deeply in debt to the Order, took advantage of the situation. In 1307, many of the Order's members in France were arrested, tortured into giving false confessions, and then burned at the stake. Under pressure from King Philip, Pope Clement V disbanded the Order in 1312. The abrupt disappearance of a major part of the European infrastructure gave rise to speculation and legends, which have kept the "Templar" name alive into the modern day.
Key selling points
Old motive on a new coin
Low mintage
Antique finish
Image gallery
Find below a gallery of all images & video available for this product. Please contact us if you require more material as we might have more available for marketing purposes.
Download image library
.
Specifications
Article ID
PW1304
Country
Palau
Year
2013
Face Value
1 Dollar
Metal
Copper silver-plated
Weight
27 g
Fineness
-
Diameter
38.61 mm
Quality
Antique Finish
Mintage
1000 pcs.
Scope of Delivery
Capsule, Box / Case, Certificate of Authenticity
Special Features
Antique Finish
Availability
Issued
Sold out at NumisCollect
All coins in the Single Issues series
Find here a list of coins issued in the same series.